Unless you and your musical cohorts have determined to emulate legendary bands from the 1960s by holing up in a crumbling Victorian in the Haight, it can be hard to find a group of musicians to accompany those moments of midnight musical inspiration. Thankfully, you needn't roust your bandmates out of bed if you have a Mac and some good software.
Invoke the magic
GarageBand '08 ( ), part of the $79 iLife '08 and included on every new Mac, has many talents, including the ability to create a backup band as large or small as your Mac's processor can handle. Its Magic GarageBand feature automatically creates a five-piece band (usually made up of bass, drums, guitar, keyboards, and a solo instrument) that plays in one of nine musical styles (Blues, Rock, Jazz, Funk, or Country, to name a few). Although you can play along with Magic GarageBand, you'll get more out of it by moving its work into GarageBand's standard interface to modify its results.
Create and export a song Start by creating a new Magic GarageBand file, selecting a style, and clicking on the Audition button. When the stage loads, select the lead (Melody) instrument on the far right of the stage and click on None. This takes the lead—the part that you'll want to play—out of the mix. Then click on each of the other instruments and choose the accompaniment that you'd like to play along with: a wah-wah guitar rather than a clean Strat, for example, and a filtered bass to replace the default moving bass in the funk tune. When you're done, click on the Create Project button and GarageBand will lay out your creation as separate real instrument (digital audio) tracks in a new project.
Change key and tempo Now click on the Note icon that appears in GarageBand's LCD and choose Project from the pop-up menu. Within this view you can change the key and tempo of the project—useful, for example, when you find jamming along with the slow blues project in A flat too challenging or the tempo too fast for you to keep up with. You can also play with the arrangement by moving sections around. For example, you can option-click on a Verse 1 arrangement heading and drag it to the right to create another verse. And, of course, you can mute or delete tracks if all you're looking for is a grooving drumbeat on which to base your tune.
Edit the parts You now have a tune in a comfortable key and tempo with an arrangement you like, but you sure wish you could substitute the clean guitar break in the bridge for the wah-wah that plays in the rest of the tune. Unfortunately you won't find any of Magic GarageBand's parts in GarageBand's loop browser. Thankfully there's a way to add them.
These parts are stored within .wand templates found in /Library/Application Support/GarageBand/Magic GarageBand. To edit one, right- or control-click on the .wand file you want to extract a part from—04.—Country.wand, for example—and choose Show Package Contents from the contextual menu that appears. In the resulting window, open the Media folder and you'll find all the variations of the Magic GarageBand project's tracks (these are .caf files). If you're running Leopard, you can audition one of these tracks by selecting it and pressing the Space Bar to invoke Quick Look. Find the one you want to use and option-drag it to the desktop to make a copy (the snippets are numbered in a logical way—Synth Lead 3.caf, for example—that reflects their order in the tune). Go back into GarageBand and delete the snippet you want to replace, then drag the snippet from your desktop in its place. You may have to adjust the substitute snippet's volume as some instruments were recorded louder than others.
Get out of the garage
Well-produced as the Magic GarageBand tunes are, there are only nine of them and you'll eventually want to move on. You can do that with the aid of Standard MIDI Files. These are data files that tell MIDI instruments and software synthesizers (like the ones built into GarageBand) what notes to play, when to play them, and what the instruments sound like that should play them. Standard MIDI Files are readily available on the Web; Harmony Central maintains a list of links, and a Google search for 'MIDI files' will turn up many more sources.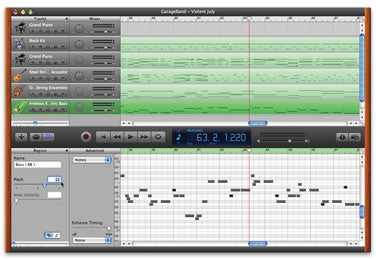 You can drag Standard MIDI Files into GarageBand and it will split them into their appropriate instrument parts—drums, bass, guitar, and keyboards, for example. If the MIDI file is configured properly, GarageBand should assign the right instrument sound to it. If not, each track may use the same sound, but the name of the correct instrument should appear at the beginning of the track in the MIDI data area. Your job is to then select each track individually in the Tracks column (double-click on the first one to open the Track Info Pane), make sure the Software Instrument tab is selected, and choose the appropriate software instrument for the track.
Note that when importing Standard MIDI Files, GarageBand often pitches the bass part an octave too low. To fix that, double-click on the MIDI data that appears in the bass track and, in the Region area below, enter 12 in the Pitch field and press the enter key to transpose the part up an octave.
Roll your own
A Standard MIDI File of someone else's tune is a good rehearsal and jamming tool, but what if you'd like to play along with tunes you've put together? Sure, if you have the ability, you could record all the parts yourself using GarageBand's league of software instruments or attempt to approximate your tune by piecing together audio loops, but there's another option: Band-in-a-Box.
Create your song PG Music's $129 Band-in-a-Box 12 Pro is billed as intelligent music-accompaniment software. Which means what? In practice, you enter chords into a kind of lead sheet and the program generates an accompaniment made up of as many as seven parts (Bass, Piano, Drums, Guitar, Solo, Strings, and Melody). Then you can tell the program where the verses, chorus, and bridge fall and it will create transition fills to bridge these parts of the arrangement. You can then choose from a wide variety of styles to accompany it.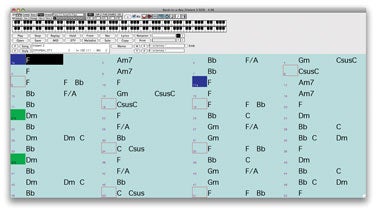 Import into GarageBand Because Band-in-a-Box uses QuickTime's synthesizer for its internal sounds—a synthesizer that sounded thin and out-of-date a decade ago—the sound of your backing band may not please you. However, once you've created your tune in Band-in-a-Box, you're welcome to leave it and work with GarageBand's better synthesizer sounds instead.
To do so, choose File: Save Standard MIDI File. Band-in-a-Box will create and save a Standard MIDI File using the current instrumentation, style, key, and tempo. Create a new music project in GarageBand with the same key, time signature, and tempo as the original song, and drag the Standard MIDI File you saved into GarageBand's main window to split the file into separate software instrument tracks.
Note that any meter changes you created in Band-in-a-Box—a switch from 4/4 to 2/4 and then back to 4/4, for example—won't be notated in GarageBand because it doesn't support meter changes. You'll hear the meter changes, you just won't see them reflected in the Notation or MIDI views.
Edit the parts Once the song is in GarageBand, you'll want to make a few adjustments. Again, the bass track will be an octave too low so raise it 12 steps. GarageBand will likely choose Pop Kit for the drum sound, which is fine for some tunes but too puny for others. I often switch to the Rock Kit and add a good measure of reverb to fill out the track. If Band-in-a-Box creates a string track, it may sound squeaky because it's pitched too high. Try dropping it an octave (enter -12), applying a different string sound (Orchestral Strings, for example), adding reverb and a light chorus, then mixing it into the background.
Some of the parts may sound too square or embellished. You can change their feel by double-clicking on a track's MIDI data to expose the editor below. In the Advanced area, try applying one of the timing settings—1/8 Note if you want to cut down on embellishments by stripping out notes that don't fit in this stricter grid, or 1/16 Swing Light if you'd like the track to have a more interesting, rhythmic feel.
[When not engaged in journalistic pursuits, Senior Editor Christopher Breen holds down the keyboard position in his seven-piece band, System 9.]