The iStik is a carrying case for second- and third-generation iPod nanos. It costs $24.95 for second-gen and $26.95 for third-gen nanos respectively.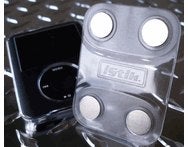 The clear case provides your iPod with protection from dents and dings and keeps it clean — it's made of Lexan plastic. But what makes the iStik unique is its fastening system.
Rather than using a belt clip, strap or carabiner to stay in place, as many cases do, the iStik uses eight Neodymium magnets to secure the iPod. You can attach the iStik to any part of your clothing, similar to how a magnetic name badge works.
Note: When you purchase something after clicking links in our articles, we may earn a small commission. Read our affiliate link policy for more details.