Either there are a lot of out of work actors in Poland, or people really aren't that excited about the iPhone. Mobile provider Orange revealed that it had hired actors to stand in line for the iPhone launch in the country as part of a PR campaign.
"It was a part of our marketing strategy, the concept was thought up at Orange Poland," the company told The Associated Press in an e-mail. "The aim was to 'warm up' the atmosphere around the launch of the iPhone."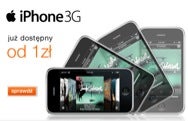 I mean, I know getting a paying gig can be tough, but how hard is it to act like you're standing in line?
"Alright, you'll be playing the part of 'Stanislaw', a mid-level executive who's uncomfortable that he's sunk into a life of mediocrity and complacency who seeks refuge by spending all his money on shiny gadgets and booze…annnd go."
One wonders if they even got paid enough to afford an iPhone. I guess they're counting on that old Communist era-instilled belief that if there's a line, there must be something worth waiting for at the end of it.
What's even more interesting is that Orange is not the exclusive provider of the iPhone in Poland; it's also being sold by Era. That makes me wonder how many people saw the long lines at Orange stores and decided to go to their competition instead. Smooth.