Virtual Programming is preparing a Macintosh version of FlatOut 2, the carnage-laden driving game originally developed by Bugbear Entertainment. Expected out in September, FlatOut 2 for Mac will cost $39.95.
If you've wanted a game that's the spiritual successor to the legendary "Carmageddon" series, FlatOut 2 may fit the bill. You get behind the wheels of cars as you take to the streets in a series of progressively more difficult races against computer-controlled foes (there's also online multiplayer support for up to eight players). You can try to take your biggest computer-controlled rivals out of the race — slamming them headfirst into a bridge, stealing the race by using a shortcut or using a nitro pack to get ahead.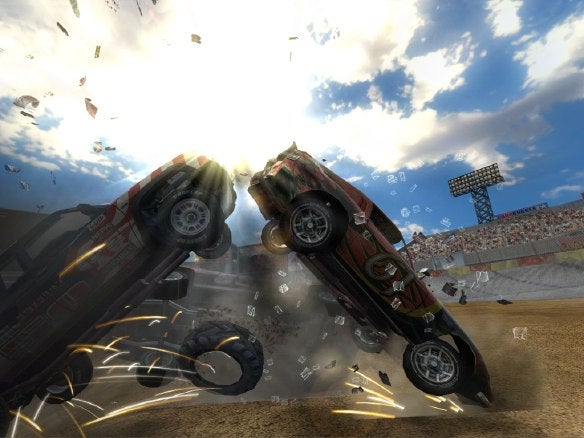 You can smash into objects around the track — fences, walls, debris, other vehicles and much more — as you try to come in first in each race. You'll also get rewarded for being the most destructive, performing stunts and more. there are also a series of "Stunt" minigames which will keep you entertained for hours.
As you win races, you can turn your race winnings over into new vehicles and customizations. The game features "ragdoll" physics that will throw your driver out of the car if slammed into a wall at high speeds; some of the minigames also emphasize this ragdoll physics capabilities, with objectives like using your driver to score a field goal through a series of upright pylons.
The game also features a soundtrack with offerings from Megadeth, Papa Roach, Audioslave, Rob Zombie, Wolfmother and others.
System requirements had not been announced as Macworld posted this article.