At a Glance
Expert's Rating
Our Verdict
Our regular roundup of the latest protective cases takes an eclectic turn, with accessories for an array of mobile devices. This week's grab bag features a holder for the original iPhone, a leather sleeve for the iPod classic, and a bag-strap pouch that fits all of Apple's mobile gadgets.
Speck ArmorSkin For iPhone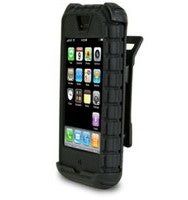 If your friends have nicknamed you Drops McGee, you're probably on the lookout for an iPhone case designed to minimize the damage of your inevitable clumsiness. Speck's ArmorSkin For iPhone may not be the be-all, end-all of klutz protection, but it certainly is an attractive option for simple shock-, bump-, and bruise-avoidance. It's made of a flexible, reasonably-thick plastic polymer covered in what Speck calls a "grippy, rubbery 'block' texture"—features that help prevent most booboos while making it easier to grip in your hand—to hopefully prevent drops in the first place. Some mild drop tests here demonstrated satisfying shock protection, sparing my iPhone from the consequences of my indiscretions (I hope).
But the most convenient trait of the ArmorSkin, and one that makes it a winner in its category, is Speck's approach to belt-clip transportation: The ArmorSkin is a two-piece set: the main case that snugly hugs the iPhone and a belt-clip holder that wraps around the case and secures it to your on-the-go, important-looking waist. Or pocket, if you're one of those people.
The advantages to this approach make me smile: When you want your iPhone off your belt, you can easily slide it out of the holder and use it as desired. Even out of its holder, the iPhone is still protected by the case itself, unlike belt-clip products where you either have to remove the iPhone from the case/clip entirely, or struggle to get the case on and off your belt. In addition, if you're entering Dangerous Territory, callously putting your iPhone's screen at risk for scratches and bumps, you can remove the iPhone from the holder, flip it around, and re-insert it with the screen facing inward. Ultra-effective screen protection, no voodoo necessary.
The clip on the ArmorSkin is lock-swiveling, offering you multiple options if the horizontal look is how you roll. The lock means it won't be swinging on your belt—a feature that can be either good or bad, depending on your preference.
Plastic never makes for the sturdiest belt-clip on the block, but the Speck clip is at least less-flimsy than those on some of the other iPhone/iPod cases I've reviewed. And the clip offers another grin-worthy garnishment: push the clip open far enough, and it snaps into place, turning the clip itself into a convenient stand to prop your iPhone upright on your Starbucks table, desk, plane tray-table.
Unfortunately, and annoyingly, the iPhone's Home button and volume controls are covered by the ArmorSkin. The button locations are identifiable by etched indentations in the rubbery stuff, but having a layer of skin over the buttons makes it difficult to figure out if you've actually pressed them—you get very little tactile response. You'll spend some time figuring out just how hard you need to push these buttons to activate them, and then some more time getting used to the adjustment.
Artwizz SeeJacket Leather for iPod classic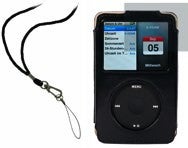 If your car-shopping criteria start with black exterior, black leather interior, and an abundance of that intoxicating new-car smell (while placing gas mileage and comfort towards the bottom of your priorities), Artwizz's SeeJacket Leather for iPod classic is your kind of iPod case. Its leather coating is thick and exceptionally sturdy, with pressure-resistant panels that provide above-average protection against drops and bumps. The interior is a fabric so soft that the idea of case-caused scratching is laughable. It has an tight—perhaps too tight—belt-clip loop on the back, as well as a fixture for the included lanyard. Out of the box, it has a powerful odor reminiscent of, yes, new car leather. The case also comes with a clear-plastic stick-on screen protector to shield your iPod's screen from the inevitable onslaught of dust and the constant threat of scratching.
Now that the flattery is out of the way, let's take a look at the downsides (as in "you'll be spending $80 every other day to fill up your empty gas tank"). The case is impressively constructed, except for one mind-boggling issue: To insert your iPod, you slide it through an opening…on the bottom of the case. And there's no strap to keep your iPod from sliding out. That makes the belt-loop all but impractical, unless you wear the thing upside-down. Even if you don't use the belt-loop, a wide-open bottom (or top, or side, for that matter) can definitely be a show-stopper. What good is a case if you're constantly worried your iPod is going to slip out in your bag or pocket?
The opening weakens the case's protection value, too, as the entire bottom edge of your iPod is vulnerable to damage from drops and scrapes. (Of course, the possibility of your iPod sliding out, even just a centimeter, adds an extra layer of risk that nixes the SeeJacket as an ideal choice for people looking for more than smooth leather and a distinctive smell.)
DLO StrapWrap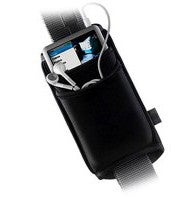 Being a student of the collegiate order, as well as a guy who pretends to be a Chicago Loop business-type, I'm constantly carrying a bag to look like I'm on my way to something important (even if sometimes the bag is empty). My iPhone rests in my pocket, pumping tunes to my ears and effectively eliminating any idle communication with fellow public-transportation drones. But keeping it in my pocket is annoying and inconvenient—the iPhone is always bouncing around, clinking with my change from lunch, and extending my headphone wire the entire snag-attracting distance from my ear to my pants. Oh, and it makes my pocket bulge, too.
When I saw the box for the DLO StrapWrap , I let out a soft yelp: exactly what I needed, I thought. And after giving it a try, I was content with its functionality, and only mildly disappointed by its caveats.
The StrapWrap's exterior is made from neoprene, making it reasonably resistant to the effects of wear-and-tear. It attaches to your shoulder bag or backpack using two adjustable Velcro flaps that wrap around any strap (up to 2.5 inches wide). A "stability clip" can clip to a buckle on your bag's strap to keep the StrapWrap from sliding. Your gadget slides into one of two stretchy pouches on the front of the case, depending on the gadget's size (gizmos up to 2.5 inches wide will fit) and how exposed you want it—one pouch offers more protection than the other. You can use the other pouch as a pocket for whatever you can manage to cram in there (for example, earbuds, ID, or credit cards).
The Good: The neoprene feels very durable, and the pouches constrict so tightly that there's no way your gadget is slipping out accidentally. The Velcro flaps work well to secure the case to the strap—at least they did for my bags—with little slippage. And, of course, the convenience factor is a big plus.
The Bad: Because of its 'one size fits all' mentality, the StrapWrap is big, both in bulk and height. For messenger bags, that isn't really an issue—there's plenty of room across the chest. But for backpacks, the macho design—and particularly the height, considering that most backpack straps curve—can add a level of discomfort or general irritation that, for some, could be a deal-breaker.
In addition, while the "stability clip" can be useful, if your bag has no buckle or other appendage within reach, the clip becomes nothing more than a nuisance, and there's no way to remove the long stability strap from the case. You end up either dealing with the swaying, bouncing fabric or shove the strap between the case flaps and your strap. And, of course, unlike bag-straps designed specifically for, say, an iPhone or iPod, there's also no way to control the functions of your gadget without removing it from the StrapWrap first.
All-in-all, the StrapWrap is a decent bag-strap option, especially for people who may want to bring along different gadgets at different times, but it's not without limitations.
[Dan Pourhadi contributes to the MacUser blog.]