Apple unleashed the iPhone 3G on a second round of countries Friday, a month after it first launched the device on July.
Twenty-two additional countries join the list of places where you can buy the iPhone 3G. They include:
Argentina
Chile
Colombia
Czech Republic
Ecuador
El Salvador
Estonia
Greece
Guatemala
Honduras
Hungary
India
Liechtenstein
Macau
Paraguay
Peru
the Philippines
Poland
Romania
Singapore
Slovakia
Uruguay
The iPhone 3G was originally launched in 21 countries on July 11: Australia, Austria, Belgium, Canada, Denmark, Finland, Germany, Hong Kong, Ireland, Italy, Japan, Mexico, the Netherlands, New Zealand, Norway, Portugal, Spain, Sweden, Switzerland, the United Kingdom, and the United States; the device also went on sale in France on July 17. Apple said it sold 1 million phones that first weekend.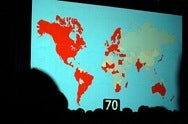 The plan for a second-wave iPhone 3G release was first unveiled during a third-quarter earnings call by Apple executives who said that the phone would debut in 20 more countries on August 22. It's all part of Apple's plan to bring the iPhone 3G to 70 countries by year's end. The company also hopes to sell 10 million iPhones by the end of 2008, a target that Apple officials remain confident they can hit.
This latest launch is largest rollout of new countries for the iPhone 3G since the July 11 release, which was plagued with long lines, delays, and server outages. We'd be interested to hear how smoothly this new round of iPhone 3G launches goes, so if you're in one of the countries listed above and you bought an iPhone Friday, we'd love to hear about your experience in the forum thread below.