If you've recently upgraded to Microsoft Office 2008, you may like the productivity suite's new features, but you may also face a few conundrums: some things just don't work the way they used to, and others don't work at all. We talked to Macworld editors and scoured newsgroups and forums to find out which problems were plaguing users. Here are answers to some of the most common questions that came up.
Read more…
Missing Macros
Q: Why won't my Office macros run anymore?
A: Macros, which let you perform multiple actions with a single mouse-click or keystroke, can save a lot of time. But Office 2008 doesn't support the Visual Basic for Applications engine that previous versions of Office used to run macros.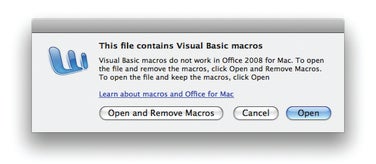 Now, if you open a file containing macros, you can choose to either remove or keep the (deactivated) macros (see "Macro Alert"). If you're working on a file that you know a colleague has added macros to, don't delete them—they'll still work if someone opens the file with a different version of Office.
If you truly need to use macros to get your work done efficiently, you have only two choices. Office 2008 provides limited support for AppleScript and Automator, so you can write your own scripts or workflows, or find some to download. For some sample scripts for Word, see Automating Word with AppleScript. What's your other option? Stick with Office 2004 for now. In response to complaints, Microsoft has announced that the next version of Office for Mac will support macros, but that release is likely two or three years away.
Keeping Compatible
Q: Why do my Word documents have the words "Compatibility Mode" in the title bar?
A: All the Office 2008 programs use new default file formats. In Word, for example, the default file extension is now .docx instead of .doc. If you open a .doc file in Word 2008, the program lets you know that the file format is "compatible" with previous versions of Word but that it's not taking advantage of all of Word 2008's new features.
If you plan on sharing files with people who don't have Office 2008 (or Office 2007 for Windows), they won't be able to open files that have been saved in any of the new file formats. In the programs' Save dialog boxes, you can choose which format to use, and each program displays the compatibility of the older formats. You can change the default file format that Word and PowerPoint use for new files in either program's Preferences menu. In Word, for example, go to Word: Preferences, click on Save, and then choose Word 2007-2004 Document (.doc) from the Save Word Files As pop-up menu.
Spaced-Out Paragraphs
Q: Why is there extra space between paragraphs in my new Word documents?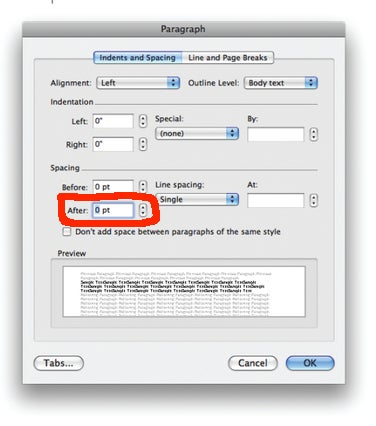 A: By default, Word documents use the Normal style to determine the look of new documents. In Word 2008, that style includes a 10-point space between paragraphs. While it's probably better to use spacing like this than to add return characters, you can turn this feature off if you want. Choose Format: Style, select the Normal style from the list of styles on the left, and click on Modify. Then click on the pop-up menu at the bottom left of the window, and choose Paragraph. In the Paragraph window that appears, go to the Spacing section and change the After field from 10 pt to 0 pt.
If you'd like to leave the spacing in between paragraphs of different styles, don't change this setting. Instead, select the Don't Add Space Between Paragraphs Of The Same Style option. Click on OK and then on Apply to see your changes.
Changing the Subject
Q: Why has Entourage stopped letting me edit subject lines in the e-mail messages I receive?
A: Microsoft removed this feature from Entourage, but it seems to have done so unintentionally. To put it back, download the Edit Subject AppleScript from the Entourage Help site.
Freeing Docked Toolbars
Q: I used to keep my Excel toolbars on the side of open windows, instead of at the top. Why can't I do this anymore?
A: Microsoft decided to attach the most commonly used toolbars to the tops of windows, perhaps to make its programs look more like some of Apple's programs. Some toolbars sit in documents' title bars by default. You can tell which ones by choosing View: Toolbars. The submenu contains a separator; the toolbars above the line stay attached to the title bar, and the rest float as before.
However, with the exception of each program's Standard toolbar, you can control-click on any toolbar and deselect the Dock Toolbar In Window option to make it float again. (You can also make this change by choosing View: Customize Toolbars And Menus and then deselecting the Dock option for any of the toolbars that allow this.)
As for the Standard toolbar, you can make it disappear by selecting View: Toolbars: Standard, but if you want to get it to float, you'll need to create your own toolbar and copy some or all of the Standard toolbar's buttons. Custom toolbars you create are not docked in the program's title bar.
To do this in Excel, PowerPoint, or Word, choose View: Customize Toolbars And Menus. (You can't customize the toolbar in Entourage.) Click on New to create a new toolbar. In the Add A Toolbar window that appears, give it a name, and then click on OK. You'll see a one-button-wide toolbar floating somewhere on your screen. Next, make sure the toolbar you want to use (in this case, Standard) is displayed. Hold down the option key and drag the buttons from that toolbar to your new custom toolbar. (If you don't hold down the option key, you'll move the buttons; holding down option copies them instead.) When you've finished, click on OK in the Customize Toolbars And Menus window, and position your toolbar where you want. (If you don't see it, go to the View: Toolbars menu and select it.)
Phantom Toolbars
Q: I don't see any of my Word toolbars! Where did they go?
A: Since some of Office 2008's toolbars live in the title bar, you can hide them easily—or accidentally—by clicking on the oblong icon at a window's top right. If you click on the icon again, your toolbars should reappear.
Click on this button to hide toolbars if you want to reclaim space in the title bar, especially if you decide to display custom toolbars in other places. Note that doing so hides certain contextual toolbars (unless you've chosen to un-Dock them, as explained previously), such as the Reviewing toolbar that appears when you're in Word's Track Changes mode. These toolbars will show in the title bar if you click on the Hide Toolbar widget, but they won't display automatically as they normally do.
Tabs Begone!
Q: Can I get rid of the tabs at the top of my Word, Excel, and PowerPoint windows?
A: These tabs make up the Elements Gallery, which is designed to give you easy access to document elements, pre-formatted tables, charts, themes, and more. If you click on one of the tabs, the Gallery expands to show you its options. You can hide the expanded view again either by clicking on the Gallery icon in the Standard toolbar or by choosing View: Elements Gallery.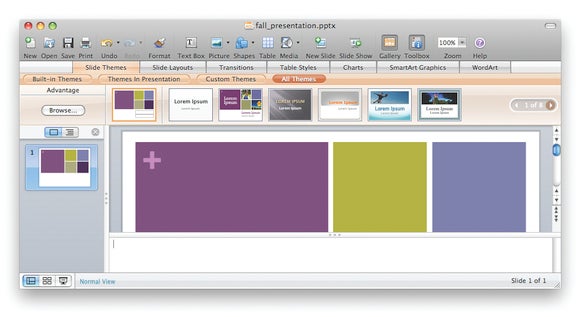 While you may not need the Elements Gallery tabs in Word and Excel, the Elements Gallery in PowerPoint is a real time-saver. Regardless, you can't get rid of them in Excel or PowerPoint—apparently, no one at Microsoft thought that anyone would want to do this. In Word, you can make the tabs disappear by changing your view mode via the View menu. They don't appear when you're using Draft or Outline mode.
Pasting Problems
Q: I use Apple's iChat a lot to collaborate with colleagues. I used to be able to paste text from Word and PowerPoint into iChat during messaging sessions. Now, any text I paste like this shows up as a picture.
A: This problem existed in the early days of Office 2004, but it was later fixed. It's arisen again with Office 2008. The only workaround—until Microsoft fixes it once more—is to paste your text using iChat's Edit: Paste And Match Style command (or to use the unwieldy command-option-shift-V shortcut).
No Double-Clicking
Q: Some of my Office files won't open when I double-click on them. What's going on?
A: Office 2008 can have problems opening older files. The cause is probably the files' type and creator codes. (Older versions of Mac OS used these codes to keep track of which program to use when a user double-clicked on files.)
If you have this problem, you'll need to either choose the files from the File: Open menu or use a utility to remove the flawed type and creator codes. One such program is Everyday Software's Quick Change (payment requested), which lets you change and erase type and creator codes for individual files or in batches. If you do this, though, you must make sure to add the appropriate extensions to the file names: .doc for Word files, .xls for Excel files, and .ppt for PowerPoint files.
Another problem arises when files are created in Word on a Windows computer and sent by e-mail. Many users can open these files only by choosing File: Open and then selecting them. In some cases, the aforementioned program will fix this problem, too. In others, you'll need to open such a file by choosing File: Open, make a change to the file, and then save it. After that, you should be able to double-click on the file in the Finder in order to open it.
Customize the Palette
Q: Is it still possible to customize the Formatting Palette?
A: The Formatting Palette (View: Formatting Palette) is a free-floating window that lets you access many Office controls usually hidden in menus. And it packs even more tools now that Microsoft has combined it with the Toolboxes. Access the Object, Citations, Scrapbook, Reference Tools, Compatibility Report, and Project Palette features by simply clicking on the other buttons you see at the top of the palette in Word, Excel, or PowerPoint.
In Office 2004, you could customize only the Formatting Palette (by selecting Tools: Customize: Customize Formatting Palette). In Office 2008, however, you click on the curly arrow button at the top right of the palette to change settings for the Formatting Palette, the Object Palette, Reference Tools, and the Compatibility Report.
Kirk McElhearn writes about more than just Macs at Kirkville.