"Cocktails are now so numerous," the journalist H.L. Mencken wrote 60 years ago, "that no bartender, however talented, can remember how to make all of them, or even half of them." Mencken added, "No man short of a giant could try them all, and nine-tenths of them, I believe, would hardly be worth trying." This from a man who once hired a mathematician to calculate how many drinks could be mixed from a well-stocked bar. The answer: 17,864,392,788. "We tried 273 at random," Mencken reported, "and found all of them good."
If anyone had taken Mencken at his word, of course, there wouldn't be shelves of fat bartending guides and certainly no need for the cocktail database applications now available at the App Store. Two of the four applications available in English are highly useful in their own way. (A fifth app, Cocktails by Swiss-Development, is available only in German so is not reviewed here.) The best of the lot allow users to create and manage a list of favorite drinks, e-mail or text message recipes to friends, and feature about 5,500 recipes between them. But all suffer from flaws that the developers would do well to remedy in future releases.
Cocktails, by Skorpiostech is a mobile version of CocktailDB. Beautifully rendered and impeccably sourced, every recipe includes a reference to where the drink first appeared—usually 1930 or before, but many of more recent vintage. The app is so history-oriented, in fact, that it includes 128 recipes that are impossible to make today because the ingredients no longer exist. Cocktails also lets users browse and search by base ingredient (gin, dark rum, light rum, vodka, and so on) and type of drink (cocktail, flip, fizz, pousse café, and more).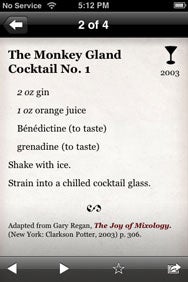 One notable omission from the Web version is the Mixilator, a random cocktail generator that produces classic recipes based on the user's tastes. Here's hoping the Mixilator finds its way into the mobile version soon.
There are three problems with the Cocktails app. First, the application isn't very stable. It crashed on me at least half-a-dozen times during testing. Second, the app doesn't let users make notes or modifications to the recipes. Third, the database's emphasis on classic and defunct drinks comes at the expense of more contemporary cocktail offerings. A database the includes a recipe for the anachronistic Alabama Fizz but not the Alabama Slammer might have cocktail geek cred, but won't be of much help to a beleaguered bartender struggling to remember whether or not the recipe calls for sloe gin. (It does.)
As it happens, Drinks by iDrinkApp.com has the recipes for the Alabama Fizz and Slammer, as well as about 4,498 more drinks.
Unlike Cocktails, Drinks isn't interested so much in quality as in quantity. Trouble is, Drinks tends to skimp on details and get certain recipes wrong. Singapore Slings always call for club soda. Not all drinks that call for "bitters" use the same kind. A proper Mai Tai should never, ever use grenadine. For practical purposes, there is no difference between a martini and a dry martini. Incredibly, the Drinks recipe for a martini calls for sweet vermouth! (In 1899 maybe.) The errors and omissions dilute what would otherwise be a great resource.
Another Drinks advantage over Cocktails, apart from sheer volume, is the addition of a notepad feature that lets users add tasting notes and, presumably, corrections. Drinks also has a fun feature which produces random recipes—sort of a stripped down version of the Mixilator.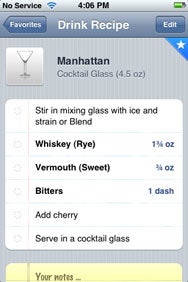 The other two cocktail apps currently available are appealing mostly for their low price. But in this case, you really do get what you pay for. iBartender by Kevin Kozan has a simple-to-use interface that sources Wikipedia for its recipes. Trouble is, with fewer than 150 drinks to choose from, it isn't very useful. Sure, you can shake the phone or iPod and have a random drink pop up. But there is no way to modify or notate the existing recipes, as with Drinks. Kozan does have a clever way of presenting the recipes: Ratios. Instead of using ounces or milliliters, he uses parts—as in, six parts dark rum, six parts light rum, three parts orange curacao, three parts orgeat syrup and two parts fresh lime juice for one delicious Mai Tai. iBartender has the potential to be a go-to application if Kozan adds more recipes. A lot more. PLBartender by Pocket Lion is fully customizable and has an e-mail feature, which are about the only things going for this app. With less than 60 drinks, and only a handful of the classics, PLBartender has little utility. It's possible that a working bartender might use this app to keep a handful of favorites or hard-to-remember recipes, but Drinks and Cocktails serve essentially the same purpose, so what's the point?
The bottom line: Cocktails is meticulous, but limited; Drinks is a bit sloppy, but voluminous. Both apps compliment each other well, not unlike gin and vermouth, but need help standing on their own. iBartender is like lite beer: not very filling. And PLBartender is not worth the price of a jello a shot.
All four apps are compatible with any iPhone or iPod touch running the iPhone 2.0 software update.
[Ben Boychuk is a freelance writer, columnist, and occasional professional bartender available for parties in Rialto, California.]