Lexar announced a new configuration of its JumpDrive Secure II Plus product line, doubling the existing capacity for its USB flash drive.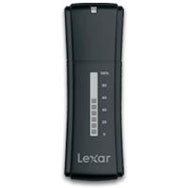 The JumpDrive Secure II Plus now features a 16GB model. Previously, capacity topped out at 8GB. Lexar also sells 1GB, 2GB, and 4GB versions of the drive.
Lexar aims the flash drive at users who want to back up, store, and share large amounts of data. The JumpDrive Secure II Plus comes with security software that lets users create multiple password-protected areas using 256-bit AES encryption.
The drive also features an onboard capacity meter that lets users know how much storage is available on the JumpDrive.
While the drives are compatible with both Macs and PCs, Mac users will not be able to take advantage of a 30-day trial of Dmailer V7 e-mail synchronization software, which comes pre-loaded on the JumpDrive.
The 16GB JumpDrive Secure II Plus will cost $99 when it begins shipping in September.