Some sad news today from the world of iPhone software, as Noah Witherspoon, developer of the Tetris clone Tris, announced that he was pulling the game from the App Store due to legal threats from The Tetris Company, owner of the Tetris trademark.
It's unclear whether Witherspoon has to do anything but change the name of his game in order to stave off legal trouble. Certainly Simon Haertel's Quinn, a wonderful Mac Tetris clone, survives to this day—with a clear disclaimer that the product is not "affiliated with or sponsored by The Tetris Company or part of their Tetris line of products."
Legalities aside, I'm hoping that Witherspoon's Tris makes a comeback because it's a great example of parallel evolution. Despite the basic similarities between Tris and Electronic Arts' official Tetris game for iPhone (read Peter Cohen's full review), they have numerous fascinating differences that underscore the decisions that iPhone software developers make when they're creating their apps.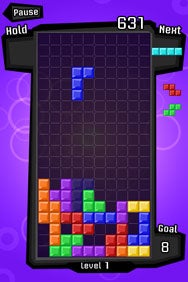 When it comes to polish, there's really no comparison between the two apps. EA's official Tetris has lovely sound effects, the traditional insanity-generating Tetris musical score (which you can, thankfully, turn off), and a snazzy collection of bonus features, including a piece-swapping space and the "Magic Tetris" challenge mode.
Witherspoon's version, in contrast, only rotates pieces in one direction (and it's the wrong one so far as this veteran Tetris player is concerned), doesn't properly animate when you clear a line, doesn't have any sound effects, and doesn't offer "ghosting" (which lets you see where the piece will be when you drop it, useful for orientation). Its touch controls are also a bit off, making it way too easy to drop a piece in the wrong place, ruining the best-laid plans of Tetris fiends everywhere.
And yet Witherspoon's Tris has a whole lot going for it, beyond the fact that it's free and EA's version costs $10.
Consider when you might find yourself playing Tetris on your iPhone. Let's be honest here—this game is a time-killer. A diversion when you're waiting in line, or sitting in a doctor's office, or trapped on a slow bus to nowhere. Often the time you're trying to kill is rather short in duration, and the best iPhone programs—games or not—should load quickly, so you can catch a few minutes of play time before it's your turn at the checkout counter.
EA's version of Tetris takes almost 30 seconds to load. It includes a splash screen, a copyright screen (take that, Noah Witherspoon!), an annoying animated splash movie, and a lengthy "Loading" progress bar. Then there's a bubbly animation that finally takes you to the main menu, where you must select a game type before you finally get an option to continue your previous game, if you had one in progress. One more gratuitous animation later, and you're ready to play.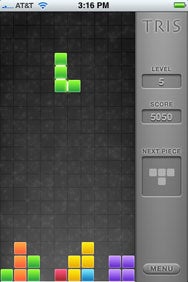 Compare that with Tris, which launches directly to a menu screen and immediately provides a Resume button that gets you up and playing in less than five seconds. It's no contest. Even pausing EA's Tetris—a key feature when you're being interrupted just as you're ready to drop that piece that will clear all the lines on your screen—takes too long.
Or consider music. As I said, Tetris comes with the original Russian-inspired music that all Tetris players have come to hear in our nightmares. But that's the only option. If you are listening to music on the iPhone when you launch Tetris, it will fade away—and it never comes back. You can't play Tetris while listening to your own soundtrack.
Tris, on the other hand, keeps your music playing in the background as you play, which I found to be a much more pleasurable experience when I was trapped on that aforementioned bus to nowhere.
EA's Tetris provides you with a Statistics item that lets you see your high scores. Witherspoon's Tris provids you with a local High Scores list as well as a global high scores list for all Tris users around the world.
And there's one final annoyance that I have with EA's design choices on its $10 official Tetris game: the third item in the game's menu, after Marathon and Magic (two Tetris game types), is More Games. You'd think that this item would lead you to other game options, given its placement in the menu. But no, tapping on More Games brings you to a scrollable list of other games EA sells for the iPhone. In other words, it's an ad, smack in the middle of your $10 program.
I don't know if Witherspoon's game will return in some form or not, or if it'll be saved from the chopping block by some timely pro bono legal advice. But its existence shows that, when it comes to software, sometimes simplicity rules, less is more, and a free clone fashioned by a college student can teach a few things to a $10 program generated by a company that generated four billion dollars in revenue in its most recent fiscal year.