Canon on Tuesday unveiled four consumer cameras and a 15.1 megapixel digital SLR camera for advanced amateurs.
The EOS 50D Digital SLR builds on the EOS 40D — which will remain in Canon's product line. The 50D features Canon's new DIGIC 4 image processor, improved noise reduction, and in-camera photo editing features. Targeted to the advanced amateur, the 50D also adds a new Creative Auto Mode, which gives users the ability to make image setting adjustments.
The EOS 50D provides ISO speeds from ISO 100 up to ISO 3200 in 1/3-stop increments, along with two high-speed settings — H1 and H2 — of ISO 6400 and ISO 12800, respectively.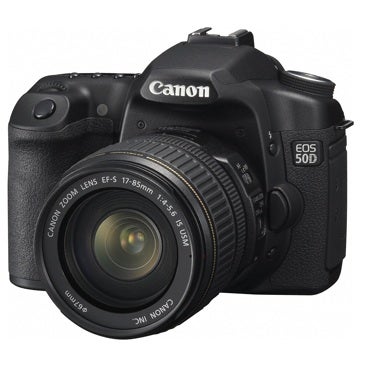 To assist with lightning conditions the new camera does peripheral illumination correction, which automatically evens brightness across the image field. This is a task that was normally done in applications like Photoshop after the images were uploaded to the computer.
The EOS 50D also comes with a 3.0-inch Clear View LCD screen and an an HDMI output.
The camera will be available in October as a body only configuration for $1,399 and with a lens for $1,599.
In addition to the higher-end 50D, Canon also released new cameras for the teen and consumer markets.
Targeted to teens, the PowerShot E1 comes in three new colors — white, blue and pink. It comes with 10-megapixel resolution, 4x Optical Zoom-lens with Optical Image Stabilization, and Canon's Face Detection Technology. The E1 comes with 17 shooting modes, including an Easy Mode that limits options to the very basics.
The E1 will be available in mid-September for $199.99.
Canon's A-Series gets two new additions to its product line and one new camera has been added to the SX-series of ultra-zoom cameras.
The PowerShot A1000 IS comes with 10-megapixel resolution, 4x Optical Zoom lens, DIGIC III Image Processor and comes in four two-toned colors. The PowerShot A2000 IS — the second camera in the A-series — also has a 10-megapixel resolution, DIGIC III Image Processor, is equipped with a 6x Optical Zoom lens, and a 3-inch LCD screen.
The PowerShot SX110 IS features a 9-megapixel resolution, DIGIC III Image Pro= cessor, 3-inch LCD screen and 10x Optical Zoom lens.
Like the E1, these three cameras come with Easy Mode to simplify the process of setting up the cameras to take pictures.
Available in September, the PowerShot A1000 IS and the PowerShot A2000 IS digital cameras will cost $199.99 and $249.99, respectively. The PowerShot SX110 IS will be available at the end of August and will cost $299.99.