Platinum Solitaire is certainly more limited in scope than some other solitaire games for the Mac—it has six games, including "traditional" solitaire (Klondike), Golf, FreeCell, Pyramid, Spider and Yukon. Compare that to hundreds you'll find in Mondo Solitaire ( ) from Ambrosia, and you mind find the selection lacking. Where Platinum Solitaire ups the ante—quite literally—is in a casino environment.
One thing I've come up against other card games I've tried on the iPhone has been the controls—using the multi-touch interface to drag cards around the table to new piles has been more trouble than it's been worth in some cases. Not so with Platinum Solitaire, fortunately. Gameloft has figured out the controls quite well, and there are a few options to making things even easier, such as automatically stacking cards.
Betting comes when you take your solitaire game play to the casinos. You place a bet at the start of the game—the higher the bet, the higher the win per card. You'll also get a bonus if you finish the game without stranding any cards.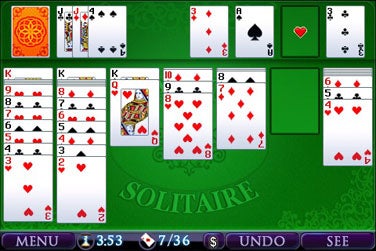 Each of the casinos in the game features a different house game—Tokyo Tower's specialty is Spider, for example, while Paradise Island's favorite game is Freecell. Each of the casinos also requires you to "unlock" them by paying them a fee.
Platinum Solitaire features in-game rules, help, and tutorials. You can turn in-game music on and off, as well as in-game sound effects (or just mute everything all together). Graphics are bitmapped and solid-shaded, giving them an "old-school" computer game style of appearance that, while not unpleasant, looks a bit archaic.
A "More Games" button (which you'll find in other Gameloft titles as well) opens up a "Cover Flow" style interface showing you other Gameloft offerings available for purchase through the App Store—and clicking the shopping cart icon will take you to that game's page on the App Store on your iPhone. It's a clever marketing trick.
Gameloft has updated Platinum Solitaire since it was first released for the iPhone, and the most recent version I tested (1.4.6) purportedly fixed crashing problems. I'm pleased to report that I had no such issues.
All told, Platinum Solitaire isn't the most comprehensive solitaire game on the iPhone, but it's inexpensive and has a lot to recommend it, especially for solitaire buffs looking for casino-style play.
Platinum Solitaire is compatible with any iPhone or iPod touch running the iPhone 2.0 software update.
[Peter Cohen is Macworld's Game Room columnist.]