At a Glance
Expert's Rating
Pros
Fanless operation
Bundled LightScribe labeling software
Cons
20x speeds offer marginal boost over 16x
Our Verdict
Even if you have a Mac with a dual-layer DVD burner, there are good reasons for buying a newer external burner. For example, MacBook users might be fed up with the pokey performance of the MacBook's built-in 8x burner. A burner like LaCie's d2 DVD±RW with LightScribe can burn some single-layer DVD±R discs at 20x-a huge boost over 8x speed. However, if you plan on using the d2's LightScribe feature to etch custom disc labels, be warned that any gains in burning speed will be more than offset by the 15 to 30 minutes needed for etching.
Featuring two FireWire 400 ports and a USB 2.0 port, the d2 leverages the thermal characteristics of the sturdy metal case common to LaCie's line of d2 peripherals, allowing it to operate without an internal fan. A small AC adapter that plugs into the back supplies power.
Bundled software includes Toast 7 Basic and LaCie's LightScribe Labeler 1.2 for designing and burning LightScribe labels (you must buy LightScribe CDs or DVDs to use the LightScribe feature). You can also download LaCie's Remote Burn 1.0 for sharing the d2 across your local network.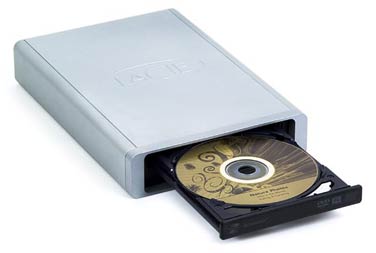 In informal testing with 20x compatible DVD-R media, we found the 20x burn to be only 3 percent faster than burning the same media at 16x.
LaCie offers two other models of the d2: a USB-only version for $90, and a FireWire-only version for $170 that includes the full version of Toast Titanium.
Macworld's buying advice
If you're looking for the fastest DVD burner for writing at 20x (single-layer) and 12x (dual-layer) speeds using compatible media, the d2 is an excellent choice. Less expensive 20x dual-layer DVD burners are available, but inclusion of the full version of LaCie's LightScribe Labeler software means you can label to your heart's content, as well as allow other Macs on your network to burn discs using the drive-both features being unique to the LaCie.
Timed trials
| | |
| --- | --- |
| 16x +R Burn | 6:02 |
| DL Burn | 19:16 |
| DL Copy 655MB to Hard Drive | 1:32 |
Scale = Minutes: Seconds
Specifications
| | |
| --- | --- |
| Drive Mechanism | Samsung SH-S203N |
| Connectors | FireWire 400 (2), 1 USB 2.0 |
| Rated Burn Speeds | DVD-R 20x, DVD+R 20x, DVD+R DL 12x, CD-R 48x |
| Included Software | Toast 7 Basic, LaCie DiscRecording, LightScribe Labeler for Mac |
[Jeffy Milstead is a former Macworld lab analyst and a writer living in San Francisco.]
Note: When you purchase something after clicking links in our articles, we may earn a small commission. Read our affiliate link policy for more details.