At a Glance
Expert's Rating
Pros
Allows simultaneous connections, incredible granularity in configuration
No need to restart for most configuration changes
Cons
File sharing broken
Mac setup tool not mature
Basic storage control failures
WPS incompatible with Leopard
Our Verdict
Mac users want to stream and sync video and play networked games without getting bogged down by lagging data. The Linksys WRT610N router takes advantage of modern Wi-Fi standards by creating two networks at once: a high-frequency, high-speed 5GHz network for media, which happens to work with the Apple TV, and a slower backward-compatible 2.4GHz network for older devices and slower data transfers.
Unlike Apple's Wi-Fi base stations with Draft N (802.11n) support, which can be set to use either frequency band, the Linksys WRT610N pushes data over both Wi-Fi spectrum slices at the same time. This allows 802.11b, g, and n over 2.4GHz, and 802.11a and n over 5GHz. While the gateway's core features work well, and it's vastly improved over the previous model, its Mac OS X support falls short.
The WRT610N was redesigned to hide antennas, so it's sleek and attractive. Illuminable icons on top of the case show whether the device is currently connected to the Internet, whether the Wi-Fi network is active, and which of the four 10/100/1000 Mbps Ethernet ports are in use. A button in the middle of the icons lets you connect computers without entering an encryption password.
The idea of having both bands available at the same time means that a single gateway can handle your newer systems that are streaming media using 5GHz—such as an Apple TV or a computer that's playing music and video over a Wi-Fi network—and older computers that handle more mundane tasks, or that can't be upgraded to use 802.11n in the 5GHz band.
Linksys has never provided real application support for Mac OS X, relying on its more advanced Web-based configuration tool that Windows and Linux users also use for anything beyond a relatively basic setup. The WRT610N is one of a handful of Linksys gateways that ships with a Mac OS X version of its setup assistant called Linksys EasyLink Advisor (LELA). LELA is a streamlined menu-driven application through which you are prompted to enter or choose network and security settings.
The problems with Linksys's Mac-friendly attempts start when the disk is inserted. Apple lets developers create window backgrounds or organize icons in a mounted disk. Linksys appears to have spent no effort on presentation or clarity. The disk, when inserted, shows an application named Device Setup (rather than LELA, as is noted throughout the documentation) sitting erratically placed in a large, otherwise empty Finder window. Further, a printed quick start guide covers Windows with no Mac OS X references, and a promised router guide in PDF form is not found on the CD-ROM. When you finally get to LELA though, the program uses a nice series of graphics to explain the steps to setup the router.
Unlike the previous WRT600N model, Linksys suggests that you give the 2.4GHz and 5GHz networks different names. With the same name, it's impossible to assign, say, your Apple TV to use the higher-bandwidth 5GHz network, as Wi-Fi devices choose by signal strength and availability which gateway they associate with if multiple gateways share an identical network name.
Linksys asserts a bit too much power in this configuration process. LELA requires that you connect directly via Ethernet to the device, and the program disables all other network connections on your system without explanation. This means that mounted file servers or file transfers in progress over a second Ethernet port, or via an AirPort connection, will be rudely interrupted.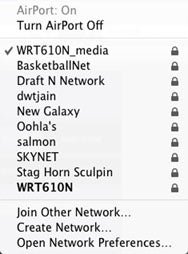 LELA saves your configuration to a text file and produces detailed instructions that mention only Windows XP, Vista, and OS X 10.4 (Tiger). Leopard instructions are absent.
Good performer
Once configured, the WRT610N works well. In real-world testing, the device topped 80 Mbps of throughput in 5GHz, and ranges of 20 Mbps to 50 Mbps in 2.4GHz. These rates were achieved when testing each band by itself and with both bands in use. In a rough comparison, Apple's AirPort Extreme Base Station with gigabit Ethernet hit 140 Mbps in the fastest 5GHz mode in testing. These tests were performed outside the lab, and variations may be explained by real-world conditions.
Protected Wi-Fi
The WRT610N features a simplified way to connect computers and other devices securely, called Wi-Fi Protected Setup (WPS), a standard that Apple supports in Leopard. Unfortunately, Linksys and Apple don't see eye to eye on how to get the WPS to make a secure connection.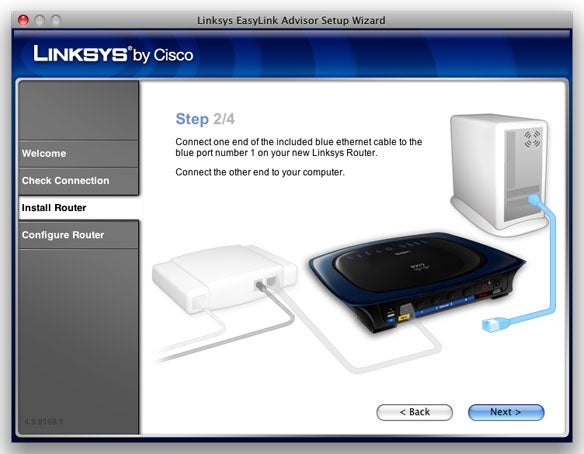 Linksys provides four separate techniques to use WPS, but Leopard doesn't work with those methods. Apple's two methods of handling WPS connections don't correspond directly to any offered by Linksys. Linksys acknowledged the incompatibility; Apple didn't respond when asked to comment. Normal security methods work just fine, however, and Linksys allows the 2.4GHz and 5GHz networks to have separate security protocols and passwords.
The WRT610N allows you to connect a single USB flash drive or hard drive, set up accounts and control account permissions, and create multiple shared volumes using folders that each have separate account access. However, in testing, even with the help of Linksys tech support, I was unable to configure shared folders to appear consistently when the server was mounted in Leopard. New accounts—ones I created rather than the built-in admin and guest accounts—failed to access the mounted volumes.
Macworld's buying advice
Linksys has tried to improve the WRT610N and make it easier for Mac users to work with. But it has not succeeded. All the problems I found could be solved through firmware updates to fix obvious bugs, and better packaging and explanation of its software. If you can avoid the Mac snafus and enjoy this device for its valuable purpose, it's worthwhile. If you're looking for ease of setup, adding computers securely, and network-attached storage, wait to see what future software updates bring.
Glenn Fleishman writes daily about wireless networking at his site Wi-Fi Networking News.