At a Glance
Expert's Rating
Pros
Can burn certain 16X DVD±R discs at 20X
Cons
LightScribe only works with USB port
Our Verdict
The DVD burners in the iMac (8X write speed for DVD±R) and the Mac Pro (16X write speed for DVD±R) aren't the fastest on the market. There's actually a mechanism created by Samsung that can write DVD±R at 20X, and it's found in OWC's Mercury Pro DVD-/+RW Samsung Super Writemaster 20X External DVD burner.
While 20X DVD media isn't readily available, the Mercury Pro can burn certain 16X DVD±R media at 20X; not all 16X DVD±R media can handle the 20X speed. The Mercury Pro also adds LightScribe to the mix, a feature that allows you to etch a monochrome label onto your discs. The catch is that it can take some time to complete the etching process—up to half an hour—and you can only etch labels onto LightScribe-compatible media. According to OWC, LightScribe in the Mercury Pro works only when the drive is connected to your Mac via USB.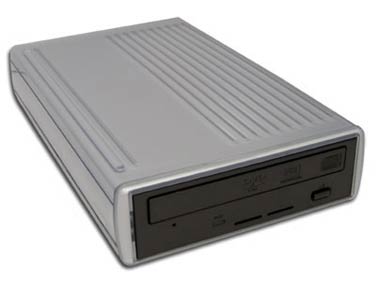 The Mercury Pro comes in a metallic gray plastic enclosure and features two FireWire 400 ports and a single USB port, with power provided by a small AC adapter. The enclosure employs a cooling fan that will add a slight bit of background noise to your work environment when the drive is not actually accessing a disc.
The OWC software bundle includes NTI's Dragon Burn 4.1.6, ProSoft's Data Backup 3.0.4, and a demo version of SmileOnMyMac's DiscLabel 5.2.3 (the full version is $36). Informal testing using 16X DVD-R media at 20X burning delivered a seven percent speed boost over the same media burned at 16X.
Macworld's buying advice
All told, the OWC Mercury Pro is a decent value. But while OWC throws in a starter kit of blanks (25 CD-Rs and 5 LightScribe-compatible DVDs), they only ship the demo version of SmileOnMyMac's DiscLabel 5.2.3, which you need to create the LightScribe labels. For $130, LaCie offers the d2 DVD±RW with LightScribe ( ). It's $17 more than the OWC drive, but the d2 can also burn certain DVD±R discs at 20X and also comes with LaCie's fully-functional LightScribe Labeler software, and, unlike the OWC drive, is able to etch LightScribe discs using either the FireWire or USB ports.
Timed trials
| | |
| --- | --- |
| 16x +R Burn | 5:48 |
| DL Burn | 13:46 |
| DL Copy 655MB to Hard Drive | 1:32 |
Scale = Minutes: Seconds
Specifications
| | |
| --- | --- |
| Drive Mechanism | Samsung SH-S202N |
| Connectors | FireWire 400 (2), USB 2.0 |
| Rated Burn Speeds | DVD-R 20X, DVD+R 20X, DVD+R DL 12X, CD-R 48X |
| Included Software | Smile On My Mac's DiscLabel Software with Lightscribe labeling, NTI DragonBurn OEM, and Prosoft Data Backup 3 OEM |
[Jeffy Milstead is a former Macworld lab analyst and a writer living in San Francisco.]