About a decade and at least one employer ago, I had a boss who decided to give us, his underlings, some unsolicited career advice during a staff meeting. "If some of you were to devote the same energy to your jobs as you do to fantasy sports," he said, "who knows how far you could go?" He wasn't looking specifically at me when he said this, but that was all right, since everyone else in the room was.
Well, in the ensuing decade, I've managed to rise through the employment ranks to become a high-ranking editor for a major technology publication. And I've continued to play fantasy sports all that time. So who's the winner in that scenario? (At this point, gentle reader, the author is pointing quite emphatically at himself.)
But my old boss had a point there about time-management. Spending too much in the way of time and resources on your fantasy sports teams can defeat the purpose of what's supposed to be a fun diversion and not a life's mission. Indeed, I've always tried to strike that proper balance between heading into a fantasy sports draft well-prepared to build a team and over-burdened with depth charts, spreadsheets, and briefing materials.
It seems like the iPhone could play a pivotal role in managing fantasy draft preparations. And indeed, with the pro football season and its attendant fantasy leagues kicking off next week, two programs available on the App Store offer to do just that. To some extent, they deliver, though you probably won't want to abandon pen and paper for this year's draft.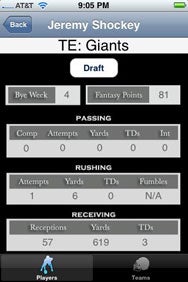 Fantasy Football Draft Central '08 from UltimateFFB offers a mixed bag of draft management tools. On the plus side, the $1 app's player listings are extensive, drilling down all the way to second-stringers and reserves—that kind of depth is invaluable if you find yourself in a large league where the difference between victory and defeat could come down to drafting the right short-yardage specialist running back. Tapping on a player's name reveals his stats for the 2007 season—a helpful way to research would-be picks.
Players are listed by position—you can view sorted by a ranking system devised by UltimateFFB or alphabetically by first name. A third viewing option lets you look at players who are still on the draft board—a sign that Draft Central is not just intended to help you prepare for your draft, but manage the draft itself. Indeed, if you tap on a player's name, and then tap the Draft button, you have the option of assigning a player to your team or to one of your opponents'. Either way, it's a good way of keeping track, mid-draft, of who's still available.
Sadly, not all the information contained in Draft Central is that intuitive or useful. Some players have a plus symbol or an asterisk next to their name (or, in some cases, both). There's no indication in the application itself or at the minimalistic UltimateFFB Web site. An e-mail to the company revealed that the plus sign means the player was on the All-Pro team in 2007 and the asterisk means the player made the Pro Bowl.
A badly needed 1.1 update addressed some bugs with the application and fixed some out-of-date data that had relocated players still affiliated with their 2007 teams. (Some errors remain; Draft Central 1.1 still lists Jeremy Shockey as a Giant, even though the voluble tight end now plies his trade in New Orleans.) The update also made a critical addition—bye weeks are now listed along with a player's 2007 stats. If you land Tom Brady in an early round, for example, you want to make sure your backup QB doesn't also have a bye in week 4 when the Patriots' infuriatingly handsome signal caller is cooling his heels, so it's good to see Draft Central's developer add this key piece of info.
The 1.1 update added a new team management capability, in which you can enter the names of opposing teams in your league to track their draft maneuvers. It's a nice addition, I suppose, though without a way to export or e-mail rosters, I wonder if the effort of painstaking entering team names outweighs the benefit of having that info at your fingertips. Also, while you can edit and enter opposing teams' names, you can't change your own—you're stuck with the accurate, though not very creative, My Team moniker.
Even after the update, Draft Central lacks a wishlist feature that lets you set aside players you'd like to add to your team—a glaring omission in an app aimed at helping you prepare for fantasy drafts.
The 1.1 update appeared at the App Store on Tuesday afternoon—too late to assist me in one of my fantasy league drafts this week and, I suspect, too late to be of much use to other fantasy league players who might have had their drafts this past weekend. This is not really the fault of UltimateFFB—the developer says it submitted the 1.1 update more than a week ago, and it took Apple that long to post the update at the App Store. It certainly must be frustrating for any developer to produce a timely update only to see nothing change at the App Store; it's especially frustrating—for developers and users alike—when that application is tied into a set event like the start of the NFL season, which kicks off eight days from now. You hate to see a software maker get penalized for a clearly flawed process for reviewing and posting application updates, but the fact remains, Apple took so long to post the Draft Central 1.1 update, it essentially made the application useless for people whose fantasy drafts have come and gone.
There is another fantasy football option that gets more things right out of the gate. Fantasy Football Cheatsheet '08 from 290 Design doesn't match Draft Central's depth in terms of player or statistical data. But it has the crucial information you need to come into your fantasy draft prepared. (Free when it first debuted on the App Store, Cheatsheet now costs $2 to download.)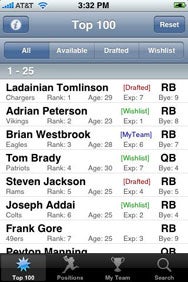 Cheatsheet lets you choose between multiple views of player information. You can look at the Top 100 players regardless of position, or you can view the top ranked players by position (quarterback, running back, wide receiver, tight end, a wide receiver-tight end combo, defense, and kicker). The listings are not as extensive as what you'll find in Draft Central—the aforementioned J.T. Sullivan is not listed among the top 51 quarterbacks in Cheatsheet's universe, so if you care to take a flier on the 49er QB, you'll have to do it without Cheatsheet's intervention.
Cheatsheet also doesn't list any statistical information. All it includes is the player's ranking, along with his age and NFL experience (irrelevant stats for a fantasy draft in this reviewer's opinion). But Cheatsheet does include the bye week for each player, which is the crucial data point that the first version of Draft Central was missing.
Tap on a player's name in Cheatsheet, and a menu with three options appears—Draft (other team), Draft (to MyTeam), and Add to Wishlist. The first two options allow you to remove players from consideration as they get assigned to teams. The third option, the wishlist, sets aside the players you'd like to keep an eye on as your draft progresses; this is the feature that makes Cheatsheet the choice for this fantasy football enthusiast.
Which is not to say that Cheatsheet's wishlist feature could not stand some improvement. When players are added to a wishlist, they're listed in order of Cheatsheet's ranking, not in the order you'd like to draft them. So if you favor, say, Randy Moss' receiving skills over Peyton Manning and his balky knee, Cheatsheet's wishlist feature will still list Manning ahead of Moss—it ranks the quarterback as the eighth best player overall and the wide receiver 10th. There should be some way that you can rank your own choices. Still, even an incomplete wishlist is better than none at all.
Since both Draft Central and Cheatsheet are static collections of player names and rankings, there's another area in which both products are lacking—the latest information about players. Since even the highest-ranked running back is one ACL tear away from spending the season on the sidelines, it would be useful to have access to updated injury information—even if it's just a link via the iPhone's built-in Web browser. You'd be ill-advised to head into a fantasy draft without that kind of up-to-the-minute injury and roster news at your fingertips.
Still, if you decide to incorporate your iPhone or iPod touch into your fantasy football draft preparations, Fantasy Football Cheatsheet '08 should be a fine companion for your draft war room. If you've still got a draft in your near future—and you're intrigued by the ability to track the drafts of multiple teams—Fantasy Football Draft Central '08 could prove to be a nice sleeper pick-up. Both apps, however, could use some seasoning before next year's draft.
Both applications are compatible with any iPhone or iPod touch running the iPhone 2.0 software update.
[Macworld.com executive editor Philip Michaels has the 14th and final pick of the first round in Macworld's upcoming fantasy draft and he does not fancy his chances.]