Your digital camera is a diligent archivist. Each time it captures an image, it records the time the photo was taken as well as the settings that were used—details you can use later to help track down the photo in your collection. For most of us, though, it's easier to remember where we took a picture than to remember when. However, most digital cameras don't possess this sort of location awareness. Two exceptions include the $500 Nikon Coolpix P6000 and the iPhone 3G (or the original iPhone with the 2.0 software update). For photos taken with other cameras, you can easily embed the coordinates after the fact through a process called geotagging.
Geotagged images provide you with a new way of sorting and organizing your photos. For example, you can search for pictures shot in a particular locale or create an interactive map of your latest vacation showing not only where you went, but also images from points along the route.
But before you can take advantage of any of these features, you have to tag your images with geographic information. Fortunately, there's now a wide variety of Mac tools that can get the job done.
Adding Geotags
When you geotag an image, you're simply storing latitude and longitude coordinates for that image in the file's metadata. This means you'll first need to get those coordinates.
Using Google Earth One of the easiest ways to do this is with Google Earth ( ), Google's free, three-dimensional, navigable model of the globe. Simply download the software, use the search and navigation tools to locate the destination of your photo, then add a placemark (Add: Placemark) to get exact coordinates.
You'll also need a program that can insert those coordinates into your files. While there are lots of programs that do this, I prefer Stanton Software's free Geotagger which works in conjunction with Google Earth. Once you've pinpointed a location in Google Earth, drag the photos you want to tag with those coordinates onto the Geotagger application icon. Geotagger will automatically launch, retrieve the latitude and longitude from the location you chose in Google, and embed it in the metadata of your images.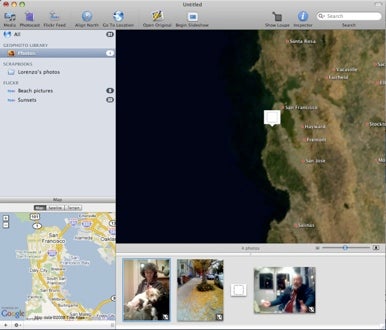 From iPhoto If you're an iPhoto user, you'll need to geotag your images with Geotagger before you import them into iPhoto. For photos already in your iPhoto library, you can add geotagging data with the help of Ovolab's $25 Geophoto. Like Google Earth, Geophoto presents you with an interactive globe. Click on the Media button to import images from your iPhoto or Aperture library, and then drag them onto the map to tag them with specific locations (see "Geophoto"). The globe view doesn't get as close to a location as Google Earth does; however, you can use the small Google Map panel on the left to zoom in closer and locate specific positions—even street-level addresses.
Once you've placed your images, select Item: Update Original With Location Information to add the GPS data to the original photos in your iPhoto library. This data stays with the newly updated files even if you later export the photos to use elsewhere. Geophoto also works as a viewing program; you can see your images scattered about the globe or perform geography-based searches.
Viewing and Sharing Geotagged Images
Once you've gone to the trouble of geotagging your images, there are a lot of ways to exploit the location data now embedded inside them. If you're running Mac OS X 10.5, for example, you can quickly map any geotagged photo with the help of Preview. Simply open the image in Preview (iPhoto users must first export the image) and then select Tools: Inspector. If the image has been geotagged, you'll find a GPS tab within the Inspector window's More Info pane. Click on the Locate button, and Preview will open your Web browser and show you that location using Google Maps.
But why limit the enjoyment to just yourself? With very little effort, you can create custom maps and displays of your photo-studded trip and share them with others.
From iPhoto If you're an iPhoto user, try Stanton Software's free iPhoto plug-in iPhotoToGoogleEarth, which will export a KMZ file of your geotagged images. KMZ files are Google Earth data files that contain location data, images, and more. After installing iPhotoToGoogleEarth, you simply select the geotagged images that you want to see in Google Earth, and then choose iPhotoToGoogleEarth from iPhoto's Export dialog box. Enter a name that you'd like to appear on the images in Google Earth and then click on Export.
Next, name the KMZ file, and then select a destination on your hard drive. Double-click on the resulting file to open it in Google Earth. You should see a photo icon on the planet at each location with which your images were tagged. Double click on the photo icon to view a larger version. To share your trip with others, simply send them the resulting KMZ file via e-mail (they'll need to have Google Earth installed). When they open it up, they'll see your images pinned to their correct locations.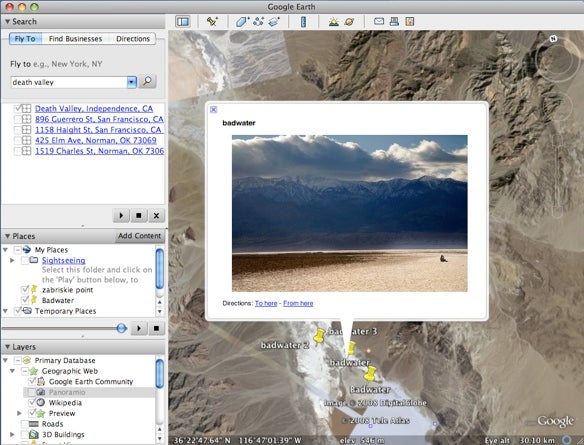 From the Finder If you're not an iPhoto user and still want to see your geotagged images in Google Earth, use Houdah Software's HoudahGeo, which automatically pins your images to their correct locations. At [euro]25, HoudahGeo is a little pricey. But if you have a GPS device, the program can also pull a log file from it and use that to tag your images. And like iPhotoToGoogleEarth, the program will export a KMZ file that you can share with others.
From Flickr The popular photo-sharing site Flickr also fully supports location metadata, and lets you view your images on a map or search for images tagged with particular locations. To activate this feature, log in, select You: Your Account from the top of the page, and then select the Privacy & Permissions tab. Click on the Edit button next to the Import EXIF Location Data option and follow the directions.
Now, when you import geotagged images, you can use the Map tab to see the photos displayed in their proper locations. Want to see others' photos? Choose Explore: World Map to browse for images by location as well as other tags.
By the way, Flickr includes its own geotagging interface. However, once you've done this, you can't easily get your tagged data out and apply it to your original image files—which means you can't use it with other applications. It's better to geotag your images before uploading them to Flickr.
Geotagging Hardware
Although software solutions let you geotag your images once you get home, they also require a lot of work. If you're serious about geotagging, you may want to consider investing in a device that can automate the process. f you already have a GPS unit, you can use HoudahGeo to synchronize route information with your photos. If you don't have a GPS unit, a couple of devices will do something similar: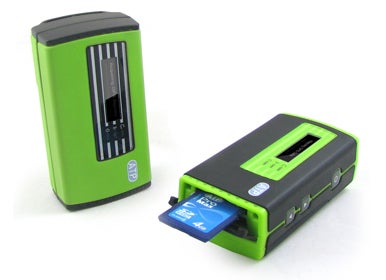 ATP PhotoFinder This $90 device is powered by two AAA batteries for eight hours of use. You simply turn on the Photo Finder and wait for it to lock on the GPS signal. Then make sure your digital camera's clock matches the time displayed on the PhotoFinder and go about your way. The PhotoFinder records a log of everywhere you go.
When you're done shooting, insert your camera's SD card (or plug an external card reader) into the PhotoFinder and it will match the time of each image to your recorded location, and add latitude and longitude to your images automatically (I've found that, depending on its view of the sky, it can be off by as much as 100 yards). Currently, the PhotoFinder only works with JPEG files.
Gisteq PhotoTrackr The $100 PhotoTrackr is slightly smaller than the PhotoFinder and requires a single AA battery for up to three weeks of use. Like the PhotoFinder, the PhotoTrackr maintains a log of your locations, but it doesn't have a media slot. Instead, you use the included software to add the data to your images. However, in my tests it's location data was a little more accurate than the PhotoFinder—though neither device was perfectly accurate.
Don't Get Lost
While you may not need to geotag all of your images, if you establish a smooth geotagging workflow, you'll probably find it easy enough to at least tag each image with a city or general location. Once you have a tagged library, you can start exploring some of the ways that you can browse and play with your tagged images.
[Photographer Ben Long frequently gets lost in the woods, but at least he knows where his pictures were taken. He is the author of Complete Digital Photography, Fourth Edition (2004; Charles River Media).]