At a Glance
Expert's Rating
Pros
Extremely portable
Both a mouse and a presentation-software controller
Horizontal-scrolling capability
Cons
No button-customization options
Uncomfortable button and scroll-wheel performance
Limited presentation options
Our Verdict
The Kensington SlimBlade Bluetooth Presenter Mouse is one odd little rodent. It tries to be two different animals—first, a compact traveler's mouse, and second, a presentation controller—but it ends up doing the first poorly and the second only minimally.
Before you can put the Presenter through its paces, however, you must first free it from its environmentally wasteful and sharp, finger-endangering plastic packaging. Inside you'll also find a pair of name-brand AAA alkaline batteries. After installing them and digging through the illustrated manual to discover the nonintuitive method of turning on the diminutive 2.9-ounce mini-mouse, pairing it with your Mac over Bluetooth is a simple matter of launching the Bluetooth Setup Assistant by clicking on the Plus icon in the Bluetooth System Preference pane, then following the instructions.
One thing you won't find in the aforementioned manual is any reference to Kensington's excellent MouseWorks software; the Presenter doesn't support it. You are, instead, limited to using Apple's Keyboard & Mouse Preference pane, which allows you to modify only right-click/left-click behavior and tracking, scrolling, and double-clicking speed. Also, although the Presenter's scroll wheel also provides horizontal scrolling (which requires OS X 10.4.8 or later), its button is limited to a hardwired F12, which by default brings up the Mac OS X Dashboard; that behavior can be changed in Leopard's Exposé & Spaces or Tiger's Dashboard & Exposé System Preferences panes.
As a mouse, the Presenter is hard to love. From an ergonomic point of view, it's too tiny for comfort, its buttons are tough to click, and its ratcheting scroll wheel is a slippery little devil. To be fair, the tracking capability of its 800-dpi laser diode is more than adequate—and, being a laser-based system, it worked on a wider variety of surfaces than a standard LED-based system—but I found my large hand cramping after only minimal mousing.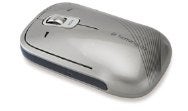 When switched to Presentation mode (by pressing the aptly named Mode switch nestled behind the scroll wheel twice then watching two green-LED arrows announce your success), the Presenter's right and left buttons become next-slide and previous-slide buttons for use in PowerPoint or Keynote, while the scroll-wheel button darkens the screen. These functions worked as expected, but they're all that the Presenter can accomplish in Presentation mode—there's no volume control or laser pointer as there are in Kensington's more-capable SlimBlade Presenter Media Mouse ($80). Kensington claims a 50-foot range in presentation mode; our testing came up a wee bit short.
Macworld's buying advice
If you have limited room in your traveling bag, the Kensington SlimBlade Bluetooth Presenter Mouse is an adequate dual-purpose device. Just don't expect much, and you won't be disappointed.
Rik Myslewski has been writing about the Mac since 1989. He has been editor in chief of MacAddict (now Mac|Life), executive editor of MacUser and director of MacUser Labs, and executive producer of Macworld Live. His blog can be found on Myslewski.com.