At a Glance
Expert's Rating
Pros
Slim enough to slip into your pocket
Versatile software
Cons
Portability defeated by attached USB cable
Poor ergonomics
Poor fit-and-finish
Our Verdict
Sometimes a unique, innovative design is a good thing. Sometimes it's not. Macally's AccuGlide diminutive USB mouse is an example of the latter.
This brushed-silver slab is unlike any mouse you've ever seen. At a mere 2 by .6 by 3.3 inches, it has a smaller footprint than a business card; and at 1.6 ounces, it weighs less than the stack of cards you'd normally take to Macworld Expo. Its small size would make it perfectly portable if it weren't for the 3.5-foot USB cable sticking out of its rounded front.
This cable points to another of the AccuGlide's weaknesses: In a wireless world, it remains tethered. While its wired nature obviates the need to pack spare batteries on a business trip, I'd be willing to lug along a couple of AAAs to avoid that annoying USB cable.
The AccuGlide's petite frame also makes it difficult to use. Its unnecessarily wasteful plastic-and-cardboard packaging proudly boasts of the mouse's "Low Profile" nature—but that very flatness makes it an unergonomic hand-cramper. And while the AccuGlide's slightly recessed sides make it easy to grip, its exceptionally light weight makes precise pixel-pushing an iffy proposition.
On the plus side, the AccuGlide takes advantage of Macally's versatile Input Manager driver software, which allows you to assign one of 22 different actions or keystrokes to the mouse's left and right buttons, its comfortably wide scroll wheel and scroll-wheel button, and even to "Press Scroll," which lets you trigger actions to occur when you press the scroll button while simultaneously scrolling.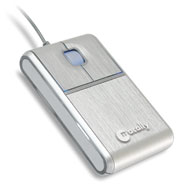 Back on the negative side, the AccuGlide I tested had noticeably poor fit-and-finish. Its two main buttons were mismatched in size and curvature, its seams were uneven, there were visible scratches on its belly, and the whole unit looked and felt … well … cheap. In terms of elegance, the AccuGlide is not a fitting traveling companion for a MacBook Air.
Macworld's buying advice
Despite the advantages conferred to it by its talented software, the portable AccuGlide is not worth even the $20 Macally charges for it. It's too small for comfort, inelegantly built, and lumbered by its wired USB connection. Macally makes some fine input devices, but the AccuGlide isn't one of them.
Rik Myslewski has been writing about the Mac since 1989. He has been editor in chief of MacAddict (now Mac|Life), executive editor of MacUser and director of MacUser Labs, and executive producer of Macworld Live. His blog can be found on Myslewski.com.