At a Glance
Expert's Rating
Pros
Comfortable shape
Versatile software
Roll-away USB ribbon cable tucks away inside
Cons
Mouse a bit too light for regular use
USB cable not as easy to manage as it should be
Our Verdict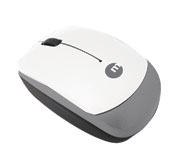 At first glance, the Macally Turtle appears to be simply an attractive wireless mouse—perhaps a bit small and light (at 2.5 ounces) for desktop use, but a good size for a welcome traveling companion for your laptop. Examine its belly, however, and you'll learn its secret: inside a flip-open compartment is a USB plug and ribbon cable on a spring-loaded reel. At 30 inches, the cable is plenty long enough to reach left-side laptop ports if you're a right-handed mouser.
Though convenient, the cable system isn't perfect. There's a miniscule slit in the front of the flip-open door through which you're supposed to thread the cable before closing the hatch—and if you're anywhere near as ham-handed as I am, you'll find that doing so isn't as easy as it sounds. Also, the spring-loaded reel frequently decides to stop reeling before it has hauled in the entire cable; in fact, the only way to get the cable to reel in correctly is to let go of it completely and allow it to snap back in—a routine that more often than not raps you on your mouse-holding knuckles with the flailing USB plug.
Cable-reeling mice aren't new, but what sets this one apart from its peers isn't its cabling convenience, but its driver software. Macally's Input Manager driver software is a marvel of versatility. Each of the Turtle's button and scrolling capabilities can be mapped to one of 22 different actions, including the normal assortment of clicks, plus custom key combinations, application and URL launching, and eight different scrolling variations. What's more, you can set different scrolling operations for normal scrolling as well as scrolling while pressing the scroll wheel—you could, for example, scroll normally with a standard forward/backward wheel-roll, but launch an app with a forward press-scroll then quit it with a reverse press-scroll.
Ergonomically, the Turtle is more comfortable than many mice in its class. The ambidextrous gadget has easy-to-grip bumpers on both sides; its 800-dpi laser tracking is well balanced for speed and precision; and its left and right buttons respond positively to gentle pressure—although its scroll button requires a stronger shove.
Macworld's buying advice
At twenty bucks, the versatile, comfortable Turtle is a steal—I'd pay that much for its powerful driver software alone.
Rik Myslewski has been writing about the Mac since 1989. He has been editor in chief of MacAddict (now Mac|Life), executive editor of MacUser and director of MacUser Labs, and executive producer of Macworld Live. His blog can be found at Myslewski.com.