Buried in the clutter of my browser's bookmarks bar is a folder called Inspiration. This is where I store sites that make me marvel at how funny and creative people can be, and it's often my first stop when I need to stretch my brain in a new direction. It includes shopping sites like Poppytalk Handmade and the Your Face blog, which features an artist's strangely wonderful drawings of reader-submitted portraits. At the moment, this particular folder contains almost 40 sites, and it's one of about 30 folders sitting in my bookmark bar—each of which serves a different purpose. And yet, even with all of this ever-changing content sitting at my fingertips, there are still days when browsing through my bookmarks leaves me bored.
Sometimes we all need a little help getting out of our Internet rut. With that in mind, I recently asked my fellow Macworld editors to open up their own bookmark collections and share their favorite sites. The results ranged from super-practical resources for advice to fun and addictive time-wasters—provided some interesting insights into my coworkers and why I sometime hear them giggling in their cubicles.
In the October issue of Macworld, which should be hitting newsstands soon, we hand-picked 55 Web sites that make you smarter, save you money, or help you pass the time more quickly. But I thought I'd also share some of our editors' personal favorites here. Most of these probably won't help you get more work done or make you a better person, but hopefully they will give you a laugh or help you freshen up your own bookmark list.
We'd also like to hear from you. What hidden gems have you found online? Are there sites you rely on for tracking down bargains, getting some down time, or just expanding your mind? Share it with us.
So here goes…
Fire Joe Morgan: This blog is a laugh-out-loud-funny critique of bad sports journalism. It's not just about baseball commentator Joe Morgan (though the annotated versions of Morgan's weekly ESPN.com chat are hilarious), but it's also about any sportswriter or broadcaster who makes ridiculously false statements. Fire Joe Morgan is a delightful combination of logical, intelligent analysis and caught-you-with-your-pants-down humor.—Jason Snell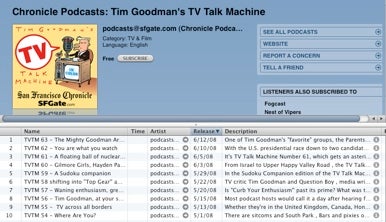 TV Talk Machine: In this podcast, listeners submit TV-related questions to San Francisco Chronicle TV critic Tim Goodman. However, Goodman and his sidekicks never actually answer the questions. Instead, they fill time with wacky impressions (from Bill Walton to Juan Antonio Samaranch) and a bizarre collection of recurring callers. The TV Talk Machine makes me laugh so hard that the other people waiting at my bus stop must think I'm crazy.—JS
You Look Nice Today: If you consider learning about Chuck Norris's Action Jeans or the National Day of Goatee Reconsideration useless, then you should avoid this blog-podcast at all costs. But if deadpan humor and artful non sequiturs are your cup of tea, then join productivity guru Merlin Mann, iTunes podcasting product manager Scott Simpson, and visual effects artist Adam Lisagor for navel-gazing that runs the emotional gamut. It's worth noting that the show's content and language veer toward the explicit.—Dan Moren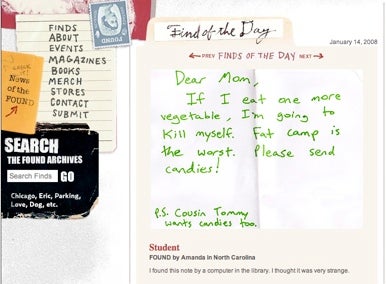 Found Magazine: This site makes the voyeuristic thrill of digging through someone's private papers feel artsy and socially acceptable. The featured Find of the Day can be photos, doodles, letters, cocktail napkin poems, or other random scraps. The funny finds are priceless (a note from fat camp requesting candies), and some items are strangely affecting (a to-do list that reads "Quit Smoking. Join AA. Join the Church. Play tennis").—Heather Kelly
Cool Tools: As the founder of MacOSXHints.com, which shows people cool things they can do with OS X, I have a soft spot in my heart for similar sites on other topics. One of the very best is Kevin Kelly's Cool Tools, which highlights incredibly useful things—be they books, equipment, hardware, software, videos, or Web sites. The people providing the write-ups test each featured item, so you know at least one person found them useful. You will find a wealth of handy tools here (I ended up adopting several), though it can be dangerous to your wallet to spend too much time browsing the entries.—Rob Griffiths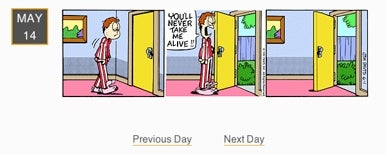 Garfield Minus Garfield: What would the long-running Garfield comic strip be without its fat feline protagonist? Turns out it would be a riotous—and very dark—story about a guy named Jon who lives alone and talks to himself a lot. The proprietor of Garfield Minus Garfield carefully selects classic "Garfield" strips and removes all traces of the titular cat. The site transforms a stale work of pop culture into a work of genius.—Jason Snell
Cute Overload: Need a quick pick-me-up? Cute Overload slaps funny captions on reader-submitted photos and videos of kittens, puppies, and other pets. The result makes me laugh out loud. Hey, you got a problem with that?—Dan Miller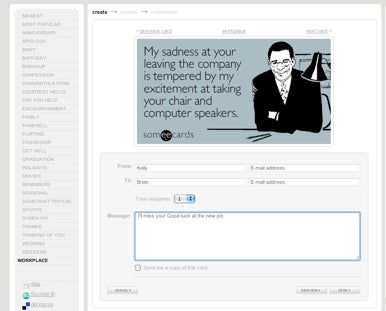 Someecards: How do you congratulate someone for breaking it off with that boyfriend you never liked anyway? Send a card from Someecards. The site has an amazing selection of irreverent, funny, and downright strange greetings for just about every occasion, from Gay Pride weekend to social blunders. You can even have your favorite messages printed as traditional mailings. Just make sure the recipient will appreciate the card's wry sense of humor.—Kelly Turner
This American Life: Every person has at least one good story to tell, and This American Life is where those stories get told. Ira Glass is the most lovable, self-deprecating radio host out there, with a gift of finding the extraordinary in the ordinary. Listening to the show has become the most soothing part of my morning routine. By the time I reach the office, I've heard stories of a woman who tried to train herself to become a superhero, or a man's experience of interviewing schizophrenics. It's a refreshing reminder that the human race is incredible.—Brian Chen
Bonddad The stock market has been crazy lately. The Bonddad Blog is my favorite source of sanity. Run by a onetime bond broker turned lawyer, it looks at the markets (from a decidedly technical perspective), economic trends, and government policy. Entries are in plain English and provide splendidly sensible charts that help make sense of all the gyrations.—DMi