Nikon announced a new digital SLR camera that it claims is the first digital single-lens reflex camera capable of shooting high-definition movies.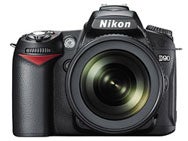 The Nikon D90 is a 12.3-megapixel camera featuring Nikon's Expeed image processing technology. The D90 replaces the D80 in Nikon's line of DSLRs.
But the feature Nikon is touting with this latest camera is the addition of D-Movie mode, which lets users create HD movie clips with sound from the D90. The camera can film 1,280-by-720-pixel movies at 24 frames per second in motion JPEG format. The video mode only allows manual focus. Users can capture video using any D90-compatible lens. The D90 also shoots video at 320-by-216 and 640-by-424 resolutions.
Other features in the D90 include face detection technology, a Live View mode for seeing images without looking through the view finder, and an 11-point autofocus system.
The D90 will go on sale in September, with the body-only model costing $1,000. The camera equipped with an AF-S DX Zoom-Nikkor 18-105mm f/3.5-/56G ED VR lens will cost $1,300.
Nikon says the D90 will also work with the Nikon GP-1, a GPS unit that will sell separately in November, to geotag images with latitude, longitude, and altitude data. Nikon plans to announces pricing for the GP-1 closer to its November ship date.