A million formats lived and died on AM and FM radio. But news of the niche format's death was slightly exaggerated. Album-oriented rock, classical, bluegrass, free-form progressive, surf rock and punk didn't really die at all. Some interesting music migrated to satellite. The rest moved to the Internet. To music lovers for whom a 160GB iPod classic is still disappointingly small, Internet radio gives the iPhone and iPod touch an unlimited capacity for music.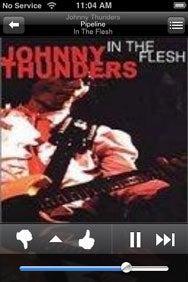 Assuming that Internet radio survives the latest salvos from copyright holders, satellite and cable providers, iPhone and iPod touch users have excellent options. Four apps, three of which are free, offer users a vast selection of content, from mainstream commercial fare to more eclectic offerings and b-sides so obscure even the original artists have forgotten them.
There are two types of Internet radio apps: User-generated and driven, like Pandora and Last.fm; and programmed radio stations, aggregated with AOL Radio and Tuner Internet Radio.
Pandora Radio is a free application. It has a simple interface, effortless navigation, and a thumbs up or thumbs down button that helps determine how a listener's station will evolve. There is also a button which, when clicked, explains why Pandora picked a particular song. Users can bookmark any song or artist, as well as purchase songs from the iTunes Music Store.
It's never a good idea to argue matters of taste. Personally, I prefer Pandora's service—it offers more surprises, selecting music from a 500,000-song library based on one's preferences and thumbs-up and thumbs-down votes. I built a free-form channel on Pandora starting with just one band and let the algorithm do the rest.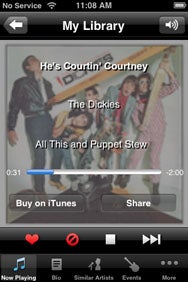 Last.fm has plenty of virtues, too, such as the ability to create and share playlists easily. Unlike Pandora, Last.fm displays a song's running time. Users can also buy songs from iTunes. Like Pandora, Last.fm is also free, though it's also more labor-intensive, requiring the user to input their favorite artists. Last.fm's appealing extras undermine the app's stability. Clicking buttons for similar artists and artist-related events, for example, caused the app to lock up several times on a 3G phone.
And buffering times are a huge drawback with Last.fm. Songs are simply slower to load on a Wi-Fi connection compared with Pandora, where the transitions from one song to the next are virtually seamless.
AOL Radio and Tuner have similar interfaces, listing stations by genre and displaying a station with a sound meter. Both services offer a smorgasbord of content. Only the blessed Internet could conceivably support a radio station devoted to all Korn, all the time. (AOL Radio has similar channels dedicated to Radiohead, the Smashing Pumpkins, Tori Amos, Pearl Jam, Metallica, the Clash, Green Day, and the soundtracks from the Final Fantasy video game series.) AOL features more than 200 CBS radio stations, including several big city stations such as WFAM-AM in New York, WXRT in Chicago, and KLSX and KROQ in L.A. The iPhone's locating function will find CBS stations near you.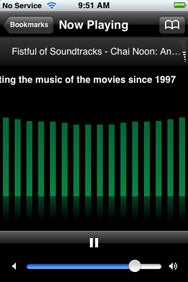 But Tuner, the only paid radio app here, which streams content from Live365.com and other sources, is tops when it comes to range and diversity. For example, classical music lovers can pick from about 40 different channels (well over 120 if you count the stations with different bit-rates) on Tuner. AOL radio offers just 10 classical channels, although that's roughly 10 more than most cities feature on the FM dial nowadays.
The real downside of AOL Radio is sound quality: Distortion is commonplace, even with a strong Wi-Fi signal, and especially at higher volumes. Tuner supports AAC+, MP3, PLS and M3U and displays each station's bit rate. AOL doesn't. Another downside shared by AOL Radio and Tuner: Users can add songs and stations to a favorites list, but cannot buy them from iTunes Music Store as they could on Pandora or Last.fm.
With four worthy applications, there is a multiverse of Internet radio content waiting to be explored. The car radio will never sound the same.
All apps reviewed are compatible with any iPhone or iPod touch running the iPhone 2.0 software update.
[Ben Boychuk is a freelance writer and columnist in Rialto, California, with a surprisingly extensive knowledge of '80s metal.]