Philips launched the CinemaOne for people who want a compact home theater, at the IFA electronics show on Thursday.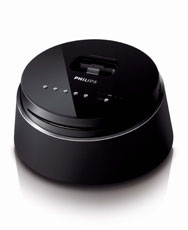 The unit combines a DVD player, CD player, iPod dock with amplification, four speakers and a subwoofer. The speakers are angled around the body of the unit, and the 4-inch subwoofer is built into the base.
It will start shipping in Europe in September or October, and cost €449 (US$660). No plans for availability elsewhere in the world have been announced.
One thing the CinemaOne currently lacks is support for Blu-ray. That might come in the future, but right now it's not something that the Cinema One customer is asking for, according to Philips. It sees the CinemaOne being used in student apartments, bedrooms or an office.
The CinemaOne measures about 273mm-by-172mm-by-273mm, which Philips compares to the size of a football. It can handle several video formats, including DivX and WMV.