If you're a Mail user, you probably know at least a couple ways to delete messages—there's the mouse-intensive "drag to trash folder," or you can use the menu (Edit -> Delete), or the keyboard shortcut (Command-Delete). Of these three, Command-Delete is my most-used method, as it's fast and keeps my hands on the keyboard.
The one downside—at least in certain cases—to all these methods is that they move the deleted message to the trash folder. Generally, this is a good thing, because it gives you a fallback in case you make a mistake. But what if you're emptying out a spam-trapping folder, or a folder of ancient messages, and you know you don't want to keep them in the trash?
If that's the case, select the message (or multiple messages), then press Command-X (or use Edit -> Cut in the menu). This will cut the messages from the folder, as would happen in any text editor with a selection of text. If you like, you can use Cut as expected—select a new mailbox and press Command-V (or Edit -> Paste), and the cut messages will be pasted in the new folder. However, if you do nothing else, the cut messages will simply vanish—as soon as you put anything else on the clipboard, those cut messages are gone for good.
Now, as I stated, this can be a very dangerous thing to do, especially if you get used to doing it in your "not important" Mail folders, and then accidentally use it in your "important" folders. If this scares you—and it should, at least a bit—and you'd rather not worry about accidentally cutting a message, here's a decent workaround: reassign the Cut keyboard shortcut in Mail.
Open the Keyboard & Mouse System Preferences panel, and go to the Keyboard Shortcuts tab. Click the Plus sign at the bottom left of the window, which will drop down a keyboard shortcut assignment sheet. Set the Application pop-up to Mail, enter Cut for the menu title, and enter your desired keystrokes (Shift-Control-X, perhaps) in the Keyboard Shortcut box, then click Add.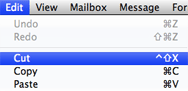 If you're running Mac OS X 10.5, you're done; if you use 10.4 and Mail was running when you did this, quit and restart Mail to have the changes take effect. As seen in the screenshot, your Cut shortcut should reflect your changes—so you won't accidentally cut a message by simply pressing Control-X any more.
If you're going to use Control-X to permanently delete messages, please be careful with it—they really will vanish for good, and there's no way to bring them back (unless those messages have been backed up, of course). I do like the ability to permanently delete while bypassing the trash, however—it's quite useful for emptying my various spam-trapping folders. Just use this feature with caution, lest you lose something you really wanted to keep.