On Monday, Sanyo announced the latest addition to its line of digital projectors—the PLV-Z700—at the IFA 2008 consumer electronics trade show in Berlin.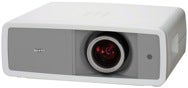 Sanyo's entry-level HD projector can displaying full 1080p resolution with a 16:9 widescreen aspect ratio, the PLV-Z700 is aimed at consumers for home theaters and media rooms. It features Sanyo's 3LCD panel, 10-bit color, and a 165W projection lamp.
The PLV-Z700 also boasts advanced lens-shifting technology, a new variable iris, and Sanyo's 3D color management system. The lens-shifting technology combined with the unit's built-in 2x zoom allows for projecting onto screens between 40 inches and 300 inches at s between 4 feet and 60 feet away.
The projector also features a 10,000:1 contrast ratio and brightness rated at 1,200 lumens, and sports a wide array of video inputs, including two HDMI 1.3 ports, two sets of component plugs, one set of RCA composite plugs, and an S-Video connector.
The PLV-Z700 will start shipping in October for $1,995.