Logitech announced on Thursday the Squeezebox Boom, the latest addition to its Squeezebox line of streaming-audio products. Featuring an integrated amplifier and speakers, the Squeezebox Boom brings iTunes music, and streaming Internet audio into rooms and onto nightstands without any external speakers. It will be available in September for $300.
Like the other products in the Squeezebox line, developed by Logitech subsidiary Slim Devices, Squeezebox Boom can connect to a Mac or PC and play back music via the free SqueezeCenter server software, which connects the Logitech players to your iTunes library. The device can also connect directly to the Internet without any server, so that you can play music from Internet radio stations as well as services such as Rhapsody, Last FM, and Pandora. A set of six preset buttons on the front of the device lets you get quick access to your favorite radio stations or playlists.
Sporting an integrated set of buttons and dials, the Boom is designed to function as an alarm clock, complete with a snooze bar on its top. It's also able to keep time and play alarms even if your home Internet connection goes down as you sleep. And the alarms interface is solid and flexible, allowing you to program multiple alarms for different days and times.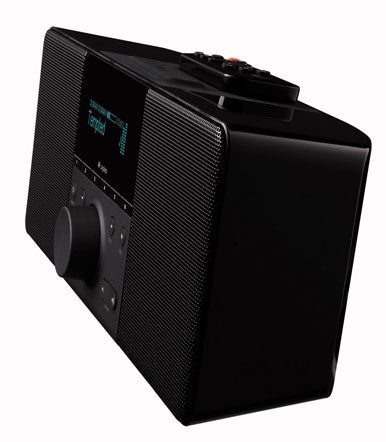 Despite its name, the Boom is sized much more like a bedside alarm clock than a boom box. It's 13 inches wide, 5 inches high, and 3.1 inches deep. During a few weeks of testing a prerelease version of the Boom, I found it to produce excellent sound far beyond what I expected from such a small set of speakers.
The Boom connects to the Internet via built-in 802.11g networking, and also sports an Ethernet port. It's also got a headphone jack and an auxiliary-in jack for piping audio from other sources through its speakers.
Though it's been a couple of years since competitor Roku introduced its similar SoundBridge Radio, it's exciting to see Logitech finally combine the excellent Squeezebox technology (which several of us at Macworld have been big fans of since we discovered the original SLIMP3 more than five years ago) with built-in speakers. Stay tuned for Macworld's full review of the Squeezebox Boom.