Apple on Thursday released an update for Final Cut Express, its advanced amateur movie editing application, bring the current version to 4.0.1. The company also release the ProRes QuickTime Decoder as a separate update.
According to notes provided by Apple, Final Cut Express 4.0.1 addresses compatibility issues with AVCHD camcorders, improves stability when using third-party FxPlug plug-ins, and addresses a number of other minor issues.
The update is currently available through the software update mechanism in Mac OS X.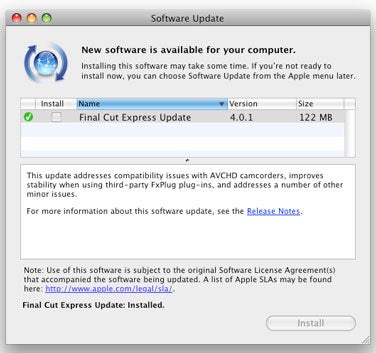 The ProRes QuickTime Decoder 1.0 is a new piece of software that allows users to play Apple ProRes files through QuickTime. ProRes is a visually lossless format that provides uncompressed HD quality at SD data rates.
The decoder is available for Mac and Windows and can be downloaded from the company's Web site.