A search engine is great if you already know exactly what you're looking for. But if you're simply hunting for great bargains, inexpensive hotels, or good parenting advice, you want a site that specializes.
As part of our week-long "Web Sites We Love" series, we've hand-picked 15 Web sites that we rely on for great deals, savvy advice, and an outlet for our shopping frustrations. (And be sure to share your own picks here.)
Smart shopping
Why pay retail prices if you don't have to? The Web is full of discounts and bargains—if you know where to look.
Find Sales and Coupons Looking for bargains on everything from stand mixers to digital cameras to clothing? Then be sure to visit Dealhack, Ben's Bargains, and Want Not on a regular basis. All three sites monitor rebate offers, coupons, and markdowns at popular shopping sites. To save time as well as money, subscribe to each site's RSS feed in your favorite news reader and have deals sent right to you.
Score an Amazing Deal Woot takes an interesting approach to saving money: each day the site offers exactly one product at an amazingly low price. Products range from three-packs of wine to 31-in-1 ratcheting wrenches. It also provides a few side deals if the day's main item doesn't interest you. But you'll have to be quick; some offers sell out quickly and every deal disappears after 24 hours. You won't need everything Woot offers, but at these prices, you can afford a few impulse buys.
Outfit Your Mac If you're looking for Mac accessories, look no further than dealmac. Here you'll find good deals on RAM, hard drives, printers, speaker systems, headphones, and even refurbished Macs. And dealmac is a one-stop site for your digital needs—it also tracks HDTVs, MP3 players (iPod and others), and computer furniture.
Buy Original Art You don't need a trust fund to start your own art collection. Each week, Tiny Showcase commissions an up-and-coming artist to create a limited-run print production of his or her work on archival printmaking paper. Each artist chooses a charity to donate a portion of the $20 to $40 price, so you're supporting two good causes at once. Another great source is Etsy, an online marketplace for unique handmade artwork, gifts, and accessories. Products include jewelry, pet clothes, holiday cards, toys, and candles.
Sleep Well There are plenty of Web sites that can help you find cheap hotel rooms, but TripAdvisor's user reviews help you make sure you're not staying in a fleabag motel. The site boasts more than 15 million reviews—many with user-supplied photos—of hotels around the world. You can use the site to find the most popular hotels in a city, get advice from other travelers, or search based on type of traveler (seniors, honeymooners, families). You can then check room rates on bargain Web sites such as Orbitz, Expedia, Travelocity, and Priceline.
Free iTunes Store Downloads Every week, the iTunes Store offers free content—a few songs, possibly a TV show or two, and sometimes even a music video or a short. But finding all this free content—and remembering to find it each week—is a challenge. Keep up to date using the RSS feed from the Free iTunes Store Downloads Web site, which is regularly updated to track all free content on the iTunes Store.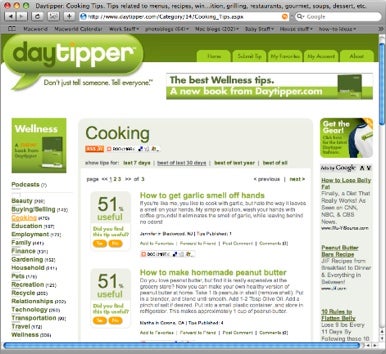 Fight Back When a deal sounds too good to be true, sometimes it is. With a tagline of "Shoppers Bite Back," The Consumerist is a great place to look before you buy to avoid bad purchases or suspect companies. Recent posts on the influential consumer-advocacy blog warn about a company offering bribes to remove negative feedback, an unreliable moving company, and problems collecting a free item from a Verizon promotion.
Get advice
Life doesn't come with a manual. Thankfully there's no shortage of advice on the Web, covering everything from how to solve technical woes to how to get your kids to eat their vegetables. All you have to do is ask.
Simplify Everyday Tasks Daytipper is a community-driven site featuring small nuggets of advice and ideas for just about every aspect of your life. Want to know how to lock someone out of the house, even if he or she has a key? (Loosen one of the screws in the deadbolt.) Wondering what's the best day to dine out? (Tuesday, because that's when fresh deliveries are made.) Need to get rid of the smell of garlic on your hands? (Wash your hands with coffee grounds.) Each user-submitted tip is rated for usefulness and categorized, making searches easy.
Get Some Parental Advice Being a parent can be rewarding—and completely overwhelming. Parent Hacks offers practical tips and ideas from real parents. Recent posts offer ideas on how to use a sled to keep kids entertained in the summer and how to create your own sandbox. Another great site is Momready, which offers categorized articles on everything from pool safety, to ways to fight boredom, to product reviews.
Show-and-Tell If you're the type that likes to get the job done yourself, Instructables is your guide. The site offers step-by-step directions for just about everything you can imagine doing, from creating festive string lights out of ping-pong balls, to rescuing a hummingbird, to fixing a broken fan. Instructions are rated by fellow readers and organized into useful categories.
Be More Efficient Lifehacker hunts the Web for the best tips and tricks to make your life easier. Many of them focus on using your computer to be more productive, but you'll also find ideas for taking better photos, creating a wall mural with chalkboard paint, and making your kitchen more functional.