This June's Worldwide Developers Conference saw Apple unveil the iPhone 3G, firm up its iPhone 2.0 plans, offer a brief peek at Snow Leopard, and profile MobileMe. And as a highly-trained news professional, I used my keen journalistic judgment, honed by years of experience, to ferret out the biggest story to come out of Apple's week-long developer confab. And I found that story to be None of the Above. Rather, the real news to come out of WWDC was Apple's decision to unceremoniously whack iCards, its 8-year-old free online greeting cards service.
So moved was I by the unceremonious demise of iCards that I dragooned associate editor Brian Chen into helping me create a fitting video tribute to iCards.
Shortly after making the video, incidentally, Brian moved on from Macworld. I've convinced myself that the two things are entirely unrelated.
Reaction to the video was decidedly… mixed. This e-mail neatly summarizes the criticism of my from-the-heart, completely serious, and not-at-all tongue-in-cheek iCards send-off.
Please pass on to Philip that the June 13 video podcast was a complete waste of bandwidth.
Complete waste of bandwidth? How dare you, sir? I'm pretty sure Andy Ihnatko has complete waste of bandwidth trademarked, and now his legal team won't leave me alone. So thanks a lot, man.
Besides, have you seen what happened to MobileMe ever since iCards shuffled off this mortal coil? The iCards-free launch was marred by glitches, service outages, and e-mail snags. Coincidence? Perhaps. But if Apple's move to make things up to subscribers by extending their subscriptions for free went over well, imagine the goodwill that would have been generated if Apple had notified users of the 60-day extension using an iCard that featured a kitten wearing a dunce cap.
Another missed opportunity.
I bring this up, because Apple has apparently heard the cries of displaced iCard users. Or, at the very least, the company got tired of my daily, increasingly hostile voicemails on the subject. And it's decided to do something about the void left in our lives by iCards' absence.
No, the company's not bringing iCards back. Instead, it's encouraging you to make your own darn iCards if you love them that much:
We've been hearing from iCards fans who miss that feature. There's a very good substitute built into Mac OS X Mail in Leopard that more than a few of those fans have taken to enthusiastically. When you start a new message, the Photo Browser and Show/Hide Stationery buttons in the upper right corner give you easy access to all the images in your library and over 30 different stationery backgrounds, many of which contain placeholder images you can replace by simply dragging in images from the Photo Browser.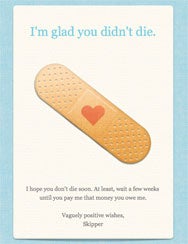 Does it work? Well, to the right is a faux-iCard someone on staff whipped up using Mail to celebrate the feature's semi-resurrection. You tell me if it captures the spirit of the original service.
Want to make your own? Apple's iCards substitute post directs users to this Alternatives to iCards knowledge base article. My colleague Christopher Breen also touches on iCard replacement in this week's Macworld Video.