You know, our high school used to have an unofficial scavenger hunt run by seniors, but it eventually got shut down after it took a turn for the…er…inappropriate. Still, scavenger hunts aren't just for kids, especially when they involve high tech gadgets.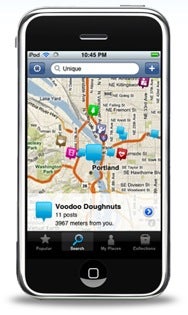 Software vendor Platial, maker of the free location-based program Nearby, is running a scavenger hunt for iPhone users from now until 11:59PM Pacific on Monday.
The goal is to find as many of 150 items as you can and record them with your iPhone's camera in no more than 25 pictures. You'll also need to grab the free Nearby program from the App Store, sign up for a free Platial account, and set up the program to post your pictures to a certain map—you can find all the details and rules at the hunt's webpage above.
So what do you get for your hunting? Platial's giving away a trip for two to the annual Conflux art and technology festival in New York City, as well as some other prizes that they haven't quite settled on yet.
This isn't the first time that the iPhone's functionality has been used for such an event, either. In July, Tapulous—maker of location-aware Twitter client Twinkle— did something similar. We smell a delicious trend of scavenging!