SwitchEasy has introduced the CapsuleNeo, a hard case for the iPhone 3G with a seven point locking mechanism. It costs $29.99.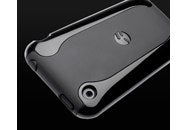 The CapsuleNeo features a "TactileThin" membrane silicon inner skin that protects the iPhone 3G's surface from scratches. The outer hard shell is made of Lexan polycarbonate plastic. The headphone jack and dock remain accessible; a universal dock adapter included with the CapsuleNeo lets you charge the device on any universal dock-compatible devices without having to remove it from the case.
The unit comes with two TactileThin silicon membranes, two anti-static screen guards, a Microfiber wipe, squeegee applicator and other accessories.
The CapsuleNeo is available in either black or white.