DataDirect Networks has validated its S2A9900 storage appliance to support in real-time more than 30 Final Cut Pro workstations running uncompressed High Definition video.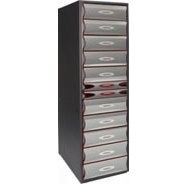 The S2A9900 manages up to 1.2 petabytes of storage capacity, offering sustained throughput of up to 6 gigabytes per second for both writes and reads. An S2A cluster can deliver more than 100GB/sec of throughput for high-performance environments, according to the manufacturer.
The S2A system combines Serial ATA (SATA) storage with a Serial Attached SCSI (SAS) interface. You can use the system to manage up to 1,200 drives, with the ability to read and write at the same speed.