Pantone on Tuesday announced that it's shipping ColorMunki Create, a new product in its ColorMunki portfolio. The new product costs $149.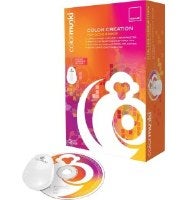 ColorMunki Create is aimed at creative professionals who need to create, manage, search, verify and share color palettes. The product combines software and hardware that helps users coordinate colors sing Pantone color libraries. ColorMunki can identify and extract colors from images and "snaps" any color from a built-in library to Pantone colors.
Palettes can be imported into popular design applications like Adobe Creative Suite and QuarkXPress; a palette synchronization function automatically updates any changes in palettes to the design applications.
Included with ColorMunki is a monitor calibrator to help you make sure the colors you see on screen are accurate. "PrintSafe" verifies colors in the palette as in gamut or out of gamut for various paper stocks. You can preview palettes form CMYK or spot color printing, or use ColorMunki to predict how palette colors might reproduce in different print situations or under varying light conditions.
System requirements call for Mac OS X 10.4 or later.
The ColorMunki Web site had not been updated with information about ColorMunki Create as Macworld posted this article.
When you purchase through links in our articles, we may earn a small commission. This doesn't affect our editorial independence.