Shure has unveiled its SE102MPA Sound Isolating Stereo Headset. The new headset is aimed at "price-conscious iPhone and smartphone owners" and costs $99.99.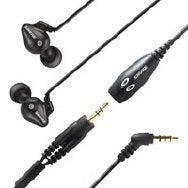 Bundled with Shure's Music Phone Adapter (MPA), the SE102MPA earphones use sound-isolating sleeves to block over 90 percent of ambient noise. An inline microphone is optimized for vocal intelligibility; it filters out background noise and minimizes wind noise. The earphones also feature an integrated control button.
The SE102MPA, bundled with Shure's MPA-3C interface, works with the iPhone and iPhone 3G.
Included with the earphones are three pairs of soft flex sleeves to find a custom in-ear fit and a carrying pouch.