AT&T and Sierra Wireless on Tuesday introduced the AT&T USBConnect Mercury, a USB peripheral that enables Mac OS X and Windows PC laptops to connect wirelessly to AT&T's High Speed Packet Access (HSPA) 3G data network. The device is available at no net cost to users who choose a two-year DataConnect plan of $60 or more (after a mail-in rebate that nets you a $100 AT&T promotion card).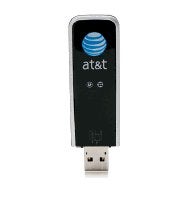 The USBConnect Mercury attaches to the USB port of a Mac or PC laptop; it's compatible with Mac OS X 10.4.11 or later. It incorporates a pre-loaded version of Sierra's Watcher software to enable it to connect to AT&T's 3G data network.
AT&T estimates typical downlink speeds of between 700 kilobits per second (Kbps) and 1.7 megabits per second (Mbps), and typical uplink speeds of between 500 Kbps and 1.2 Mbps. An integrated MicroSD flash media card slot lets you also use the interface for additional storage capacity.
The USBConnect Mercury works in more than 150 countries and provides 3G network access in more than 60, according to AT&T. It works on HSPA, EDGE and GPRS networks.