Apple on Tuesday sent an invitation to select media inviting them to a special event to be held in San Francisco on September 9, 2008.
Judging from the invitation sent by Apple, the event will focus on the iPod. With an iPod looking screen and the words "Let's Rock" it seems clear Apple will use the time to spark interest in its products for the holiday shopping season.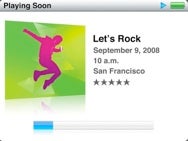 In the last three Septembers, Apple introduced the iPod nano in 2005; overhauled the shuffle, nano, and video-capable iPods in 2006, and rolled out the third-generation iPod nano in 2007. Other September surprises in recent years have included partnerships with Motorola, car makers, the NFL, and Starbucks.
Apple has hinted that a product launch would be in the works sometime before the end of September. At the company's quarterly earnings briefing with financial analysts in July, chief financial officer Peter Oppenheimer alluded to a "significant product transition" that would affect Apple's gross margins during its fiscal fourth quarter.
The September 9 event follows what has turned out to be an eventful summer for Apple. The company rolled out a new version of the iPhone on July 11, followed immediately by the release of the iPhone 2.0 software update and the launch of the rebranded MobileMe online service. While Apple enjoyed some success with those product launches—the company reported selling 1 million iPhone 3Gs and 10 million applications at the newly launched App Store—it also faced its share of woes related to the new products. Activation delays marred the iPhone 3G launch and some users have complained about the network speed of the new phone. The launch of MobileMe was marked by a series of glitches; Apple offered subscribers a free 60-day extension to their subscription to make up for the problems connected to the service's launch.
Updated at 10:53 a.m. PT to add more background on the Sept. 9 event.