Griffin Technology has released Double Bonus Slots, a new casino slots game for the iPhone and iPod touch. It costs $1.99.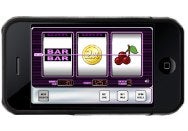 The successor to Griffin's Lucky 7 Slots, Double Bonus Slots features more action, more sound, bigger bets and bigger payouts than its predecessor. You place your bets then tap the screen to get the reels rolling.
Of course, your winnings and gambling are only simulated, but that's enough to get the App Store to give Double Bonus Slots a 12+ rating.
The game works on any iPhone, iPhone 3G or iPod touch with iPhone Software 2.0 or later.