LaCie on Tuesday announced the worldwide release of its LaCie USB Speakers designed by Neil Poulton. The $60 speakers join LaCie's $90 FireWire Speakers ( ) as part of LaCie's audio offerings.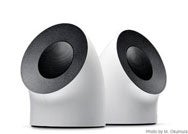 The bus-powered USB Speakers offer driver-free plug and play compatibility with Macs and Windows PCs. They also include a line-in port for connecting to an iPod or other MP3 player (an optional power supply is required for line-in use).
The compact (5.31 x 3.94 x 3.54 inches), shielded speakers include a carrying case, have a frequency range of 90Hz – 20kHz, and deliver two watts of total power.