The Web may not make you prettier, but it can help you win friends and fill awkward silences at the next company party. You just have to know where to look. As Emily Post advises, skip politics and religion. In this edition of our ongoing "Web Sites We Love" series, we've picked eight sites that will fill you in on interesting discussions, offer historical insights, and help you keep up with your friends' latest hangouts on the Web. (Be sure to share your own picks here.)
Conversation Starters
It takes more than a jigger of whiskey and some good jokes to be the life of a party. You need interesting topics to talk about. These sites will fill your head with intriguing talking points and a bounty of strange knowledge.
Think Critically Is it possible to predict who will win American Idol by monitoring busy signals on the voting lines? The cerebral duo behind the Freakonomics blog—along with a rotating cast of contributors—puts a unique, number-crunching spin on a host of random topics such as this. These bloggers delight in making their readers see overlooked or underexamined issues in a new light. And you don't have to be an economics buff to enjoy posts on whether your good looks can hurt your earning potential or information on the pay scales of call girls.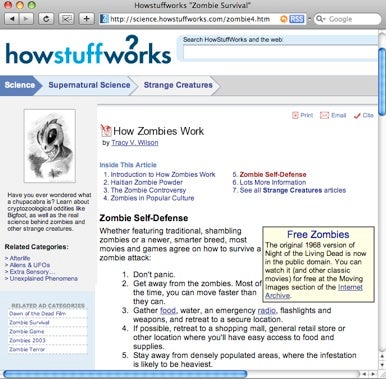 Be a Know-It-All Nothing impresses on a first date like obscure knowledge, dispensed in moderation over a homemade souffle and a bottle of Sangiovese. HowStuffWorks—a collection of easily digestible explanatory articles penned by experts—can guide you through every step of the process. Start with getting the date (How Online Dating Works), then look up a recipe (Delicious Corn Souffle) and some fancy wine talk (Wine Term Glossary). Spend the rest of your time boning up on witty conversation starters, like Zombie Self-Defense.
Parse the Web Community blog MetaFilter is a clearinghouse of the most fun, random, newsworthy, and useful content churned out by the Internet. The site is staffed by a lively co-op of bloggers and commentators, providing a bottomless supply of smart back-and-forth conversation. In a typical visit you might find a link to a site on a 1932 film so disturbing that some in the audience ran screaming from the theater, or notes from a thread on the best practical jokes ever.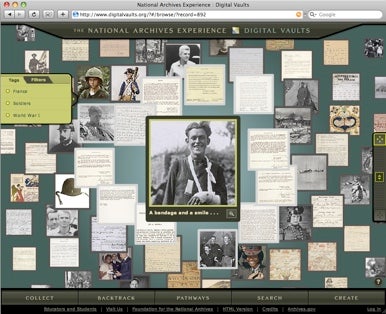 Dig into History Digital Vaults is a sleek interactive collection of scanned documents and photographs from the National Archives. Using an intuitive tag structure, you can bounce between topics and get up-close peeks at primary sources you'd normally just read about. Examine a childhood drawing of a sailboat by FDR, and then read a draft of the resolution to end slavery. The Collections option lets you keep track of your favorites, which you can turn into handsome posters and movies in the Create area.
Mix It Up Using Yahoo Pipes is like taking a peek into the future of the Internet. The visually based service lets users mash up different feeds, sites, and other online content in one location. For example, you can illustrate news items your favorite RSS feed with photos from Flickr or place news entries on a map. Searching for an apartment? Make a pipe that combines your preferred locations and prices, and then create an automatic price watch.
Keep Up with Friends
Once you've impressed others with your vast knowledge, keep the conversation going through social networking sites like Facebook, Twitter, and LinkedIn. But with new sites rising and falling in popularity every day, it can be hard to keep track of where all of your friends are posting their most intimate secrets this week. These sites will help you keep up.
Build a DIY Community Rather than wait for a start-up to create a social networking site that caters to your niche, you can try creating your own using Ning—a Web-community site builder. Thanks to Ning's drag-and-drop simplicity, creating complex features like forums and custom groups takes just moments. Or search for a group that's already formed. You'll find online communities devoted to groups ranging from independent filmmakers to animal lovers to alternative energy advocates—there's even a community for Segway lovers. You've gotta fit in somewhere, right?
Be Everywhere at Once The pain about being Web 2.0-savvy is having to log in to every site just to see what your friends are doing. FriendFeed lets you see what your buddies are up to on every popular social networking site—in one place. Did James post that camping-trip photo of you getting mauled by a bear on his Flickr yet? Wondering if Mary updated her YouTube collection with that video of you winning last weekend's arm-wrestling tournament? FriendFeed will tell you. Now you can waste time at work on one Web site rather than several.
Search Twitter Tweets Whether you're looking to buy or sell a product, word of mouth is a powerful tool. Acting as a search engine for Twitter conversations ("tweets"), Summize will keep you in the loop on what everyone is talking about. Unsure whether you should buy a new iPhone? Try typing "iPhone" in Summize and see what iPhone owners are tweeting. Or select the Advanced search to limit your query to specific locations, dates, or people.