Sure the Web is a useful resource, but let's be honest. Most of the time, we're just looking to pass a bit of time while we procrastinate on our next deadline. Whether we're looking for mindless action, brainy word puzzles, or kid-friendly entertainment, these 14 sites keep us from going crazy when the work piles up. (Be sure to share your own favorite time-wasters here.)
Play time
Playing games on your Mac doesn't have to involve buying and downloading software—many games are available through your Web browser, and none of these cost a penny to play.
A Simple Shooter The premise behind Desktop Tower Defense 1.5 is simple: protect your home from an almost never-ending line of "creeps" by setting up towers that can lob pellets, squirt liquid, throw darts, fire missiles, or blast freeze rays. The strategy comes from how you set up your towers—many players create intricate labyrinths to destroy their enemies. It's horribly addictive and loads of fun, even given its low-rent graphics and minimal sound effects.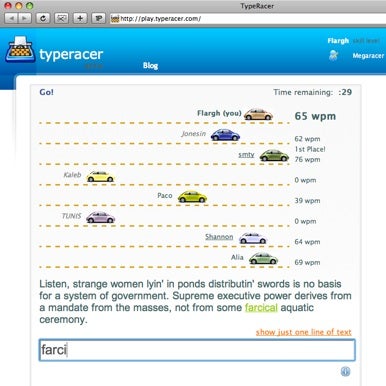 Test Your Typing TypeRacer lets you test your touch-typing mettle against other players in a race to the finish line. Each time you type a word correctly, your vehicle will move incrementally. If you mess up, you have to go back and fix it, which shaves precious milliseconds off your lap time and, when you're competing with superfast typists, can put you out of the race. This one is ridiculously popular around our office.
Sketch It Line Rider adds a bit of strategy to your doodles. You use a virtual pencil to draw slopes, hills, curlicues, or any design you choose, and then send a sledder through your design. If he has enough momentum, he'll make jumps, complete gravity-defying loops, and so on. The idea is to keep the character moving for as long as possible. If you're not happy with your creation, you can edit and tweak it. Although the game requires that you be online to play, it saves your tracks locally, so you can go back and enjoy your creations later.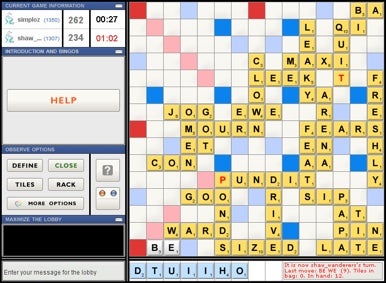 Show Off Your Vocabulary Scrabulous, an online, free version of the board game Scrabble, lets you compete with others by creating words out of lettered tiles—racking up bonuses and points in the process. It features varied multiplayer gaming modes such as Blitz, where each round lasts only four minutes, as well as solitaire play. Unfortunately, Hasbro recently shut down the popular Facebook version of the game.
Build Your Own Game Why play other people's games when you can make one up yourself? Sploder offers an innovative twist on Flash-based games by presenting you with a construction kit for building your very own game. All of the games start off as an overhead-perspective 2-D shooter featuring futuristic-looking ships—but the sky's the limit when it comes to how you set up the play field, what your objectives are, where the bad guys come from, and how you defend yourself and power up your defenses. This is particularly great for younger gamers hankering to get their first taste of game creation without jumping waist-deep into hard-to-understand code and scripting technology.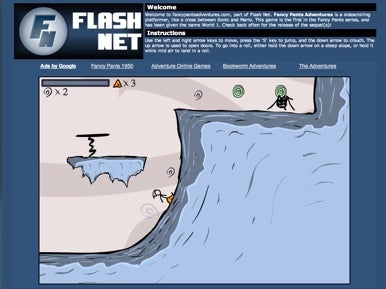 Addictive Action Imagine a side-scrolling platform action game akin to Super Mario World or Sonic the Hedgehog, featuring stick drawings. That's the premise behind Fancy Pants Adventures. You have to maneuver through a world filled with traps, pitfalls, and creepy-crawly baddies out to get you, using only your wits and your considerable athletic prowess to succeed. You can run and jump—if you land on top of one of your enemies, you'll knock it off the screen. You can also collect goodies to recharge your health and get points, open doors to explore hidden rooms, and more.
Distract the kids
Want games and activities that are educational as well as fun? These sites will help you plan fun activities so your little ones don't even realize they're learning.
Go on a Treasure Hunt Looking for an outdoor activity with a high-tech twist? Geocaching is a great excuse for a geeky parent to have a lot of fun with the kids. You need a GPS device for these treasure hunts, but you can do them almost anywhere—in your hometown or on vacation. Just get location coordinates from Geocaching.com and then head out to find the treasure. Besides being fun, geocaching helps kids explore concepts of mapping and geography.
Become Mad Scientists What kid wouldn't find an 18-foot geyser of soda pop amusingy? See a video of how to create just that and learn about other crazy science projects, as well as buy inexpensive kits with materials and instructions, at SteveSpangler.com. If your crew is ready for something more advanced, check out Make magazine's online projects and kits, including one that shows you how to make your own robotic insects with blinking LED eyes.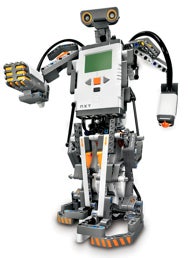 Build Killer Robots Keep older kids busy for weeks learning programming concepts and making supercool robots, with a Lego Mindstorms NXT set ($250). You'll find building guides and movies at Lego.com for inspiration. (Think home-security bot, automated fish feeder, and potato-chip-delivery bot.) For further exploration, call your local science museum to see if it has a Lego-Mindstorms-themed camp.
Explore the World When you can't get out of the house to see interesting locales in person, give your student a virtual tour on the Web. Some of our favorites include the Monterey Bay Aquarium site for live Web cams of sharks, sea otters, penguins, and more; NASA's Students page for games, as well as gorgeous space photos and videos that will satisfy any rocket-ship-obsessed kid; and National Geographic Kids for history- and nature-related games, activities, crafts, and videos.
Find Books They'll Love The library can prove daunting when you're trying to find a fresh stack of great books every week or two. If you have a kid who loves to learn about how things work, pile up the summer reading options by cruising the National Science Teachers Associations' searchable index of recommended books. Sort by age, starting with kindergarten level (also suitable for most preschoolers). Use keywords, topics, and more. You'll find books your kids ask for again and again.