WideAsleep LLC has announced the release of Fairway 1.0, a "virtual caddie" utility for the iPhone and iPod touch, now available for purchase and download from the App Store for $9.99.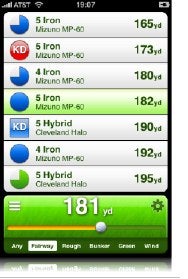 Fairway helps you manage your golf game, including information on bags, clubs and swings. You can slide the golf ball distance meter to enter the distance to the pin, for example, to determine what club and swing options would best be suited for the shot. You can enter details and notes about the course, as well.
Fairway features customization of distance for both English and Metric units, a quick selection for your active bag, filtering and recommendation of potential swings based on distance and course location, and a quick display of swing and club details.
Fairway requires an iPod touch or iPhone running 2.0 software.