Sanyo on Wednesday introduced its Xacti E2 digital camcorder. The camcorder records video onto a flash media card and can work underwater, as well. It costs $399.99.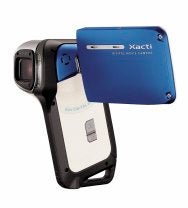 The Xacti E2 features a "pistol grip" style design and records video in MPEG-4 AVC/H.264 format at 640 x 480 pixels. It can also take 8-megapixel still images. The device is waterproof and can operate underwater to a depth of five feet, according to Sanyo, for up to one hour at a time.
Video and still images are recorded to SD or SDHC flash media cards — a single 8GB SDHC card can store up to eight hours of full motion video or about 2000 images, according to the company. Video and still images can be uploaded and viewed on a Mac or PC using an included cable.
The camera features 5x optical zoom, a flip-out 2.5-inch LCD display, 60 frame per second recording, anti-shake digital image stabilizer, sequential still image shooting at up to five frames per second, and a new underwater scene selection that adjusts colors.
The Xacti E2 measures 2.8 x 4.4 x 1.6 inches and weighs 9.1 ounces with a battery installed. It comes in either blue or pearlescent white finishes.
Sanyo's Web site had not been updated with information about the Xacti E2 as Macworld posted this article.