At a Glance
Expert's Rating
Pros
Can sync feeds, clippings, and article statuses across multiple devices
Useful feed-organization features
Handles hundreds of subscriptions with ease
Lots of feed- and article-viewing options
Built-in Web browser with tab support
Excellent keyboard-based controls
Useful reports
Great interface
Clippings feature
Smart Lists
Can track changes to published articles
Cons
Custom column widths occasionally forgotten
Occasional (infrequent) sync/refresh issues
Our Verdict
Like many tech journalists, I'm an RSS-feed junkie. I subscribe to feeds—live-updated summaries of Web-site articles—for about 125 sites, and I browse those feeds multiple times each day to follow the latest news, watch for new product announcements, and generally keep myself in the tech-industry loop. So a newsreader—a program for organizing RSS-feed subscriptions and browsing and reading articles—is one of my most-heavily used programs. While there are a number of quality newsreaders for the Mac, NewsGator's NetNewsWire 3.1.7 (NNW for short) stands out for its extensive feature set, its easy-to-use interface, and its ability to sync your feeds across multiple devices. And it's free.
The basics
Once you set NetNewsWire as your default RSS reader (easily done from within Safari's preferences), you can add feeds to NetNewsWire—called subscribing—by simply clicking on an RSS link on a Web page or an RSS icon in your browser's address bar. You can also add a subscription within NewNewsWire by providing the URL or by using the program's handy Sites Drawer, which lists thousands of feeds from around the Web organized by topic area.
Your subscriptions—the feeds to which you subscribe—are displayed in a list on the left; the number of unread articles is displayed next to each feed. Selecting a feed shows, to the right, the articles in that feed; by default, unread articles appear bolded and in a different color. Selecting an article displays its contents—which, depending on the feed, can be nothing; a summary; or the entire article—in the preview area. In Traditional view, the preview area appears below the article list, similar to Mail's e-mail preview; in Widescreen view, shown here, the preview is on the right. There's also a Combined view, which displays each article below its title in a scrolling list.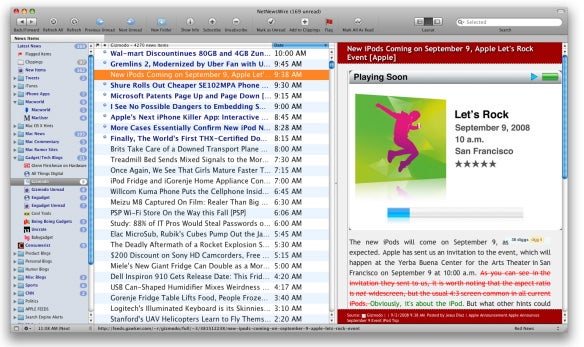 Double-clicking an article title opens the full article on the source feed's Web site, in either your preferred browser or within NetNewsWire's own Web browser, depending on your settings. The built-in browser isn't as capable as, say, Safari or Firefox, but it's more than adequate for reading most articles, as it supports Flash, Java, JavaScript, plug-ins, and custom style sheets. Like most modern browsers, it also supports tabs; tabs can appear at the top of the browsing area or as thumbnails on the right side of the window.
You can also use your keyboard's arrow keys to browse your feeds: the left and right arrows move between the subscriptions list and the articles list; the up and down arrows are used to select a subscription in the subscriptions list or an article in the articles list. Pressing return opens the selected article (or, if no article is selected, opens the main Web site for the selected subscription).
You can choose which data is displayed for each list of articles—for example, the title, date, creator, and feed name—as well as how articles are sorted within each feed. You can also choose from among dozens of visual themes that determine how articles are displayed within NetNewsWire: the fonts and font sizes, layouts, colors, and more. I find that NNW's various layouts, display options, and controls make it much easier to browse feeds than using Safari or other feed readers I've tested.
(You can also browse your feeds through NetNewsWire's Dock menu, which displays a menu of feeds with unread articles. Mousing over a feed displays a submenu of unread articles; choosing an article opens it in your browser and marks it as read in NetNewsWire.)
NetNewsWire provides master settings for how often it checks for new articles (refreshes) and how long older articles are kept in each article list; however, you can customize these values for individual feeds. For example, I've set NNW to keep articles for 30 days by default, but I've configured particular feeds—ones for which I may want access to older articles—to retain their articles for six months. NetNewsWire can also automatically download article attachments and, in the case of media files, automatically add them to a playlist in iTunes.
Keeping organized
For heavy users of RSS, NetNewsWire offers an impressive array of organization features. For example, although you can manually organize your feeds—as I do—NetNewsWire can also automatically sort subscriptions. The simplest sorting is by name, but there are a number of other interesting options. For example, NNW can continually re-sort feeds so that those with the most unread articles, or those that you read most often, appear at the top of the feed list. (NNW is even smart enough to remember your manual sort order, so you can, for example, sort by article count and then later revert to your preferred manual order.)
Within your feed list, you can create folders to organize feeds. More than just a way to neaten your list, a folder provides a consolidated view of multiple feeds: When you select a folder, its article list—which can be sorted just like any other list—contains articles from all the feeds in the folder.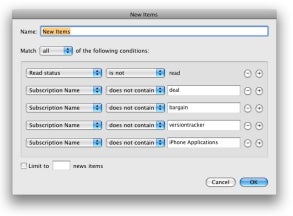 NetNewsWire also lets you create Smart Lists, which, like Smart Folders in the Finder or Smart Playlists in iTunes, are live-updated lists of articles matching specific criteria. Potential criteria include feed name, article title or contents, author, URL, flagged status, read status, and more.
In addition to Smart Lists, which you create, NetNewsWire provides two special listings of its own: a Latest News list shows all unread articles, and a Flagged Items list shows all articles you've flagged for later reading.
One of my favorite organizational features is Clippings, which provides special folders for "storing" articles for later reading. When viewing an article you want to clip, you just click on the Add To Clippings button in NetNewsWire's toolbar or press Command+Option+S. (If you have multiple Clippings folders and you want to place an article in a folder other than the main one, you instead drag the article to the desired folder.) The differences between flagging and clipping are that you can have multiple Clippings folders—for example, for different topic areas—and you can sync Clippings across devices, as explained in "In sync," below.
Finally, NetNewsWire offers a number of special types of subscriptions. A search-engine subscription creates an RSS-based (read: regularly updated) search query for Blogdigger, Daypop, Feedster, Findory, or Yahoo. A tag subscription will display new articles tagged with a particular word or phrase; supported tagging sites include Flickr, Del.icio.us, and Technorati. A local-file subscription displays the contents of a local feed document (useful for Web developers testing feeds). And if you're a geek with a script (AppleScript, Perl, Python, or shell) that generates an RSS feed, a Script subscription will periodically run the script and display its results.
Features, features
Among my favorites of NetNewsWire's myriad other features is the ability to track changes when articles are updated: If a site republishes a new version of an article, any deletions are displayed in red strikethrough type, while additions are displayed in green type. (You can see an example of this feature in the first screenshot, above. It's often fascinating to see how publications quietly change articles.) You can also search the content of all feeds or just the currently selected feed, folder, or list; import and export subscription lists; and quickly post a link to the current article on your Weblog—or send it to Twitterrific.
Useful reports show you how much attention you give to each feed and which feeds haven't been updated recently, making it easier to slim down your feed list when it gets unwieldy. And most of NetNewsWire's features can be accessed via keyboard shortcuts—many of them by pressing a single key.

In sync
Like NetNewsWire for iPhone, what makes the Mac version especially unique among newsreaders is its integration with NewsGator's online services. After setting up a free NewsGator account, you can manage and sync your RSS feeds and Clippings across multiple NewsGator clients on multiple platforms: NetNewsWire for Mac; NetNewsWire for iPhone; NewsGator Online (usable in any Web browser); FeedDemon for Windows; NewsGator Inbox for Outlook; and NewsGator Go for BlackBerry, Java Mobile, and Windows Mobile.
This means that when you add a news feed, read an article, or add an article to a Clippings folder on any device, that action is reflected across all of your other devices at the next sync; your feeds, message statuses, and Clippings are always up to date, no matter which computer or device you're using. If you subscribe to many feeds and read them on various devices throughout the day—in my case, a desktop Mac, a laptop, and an iPhone—this coordination is invaluable. (You can also customize your sync settings on the NewsGator Web site to choose which feeds appear on which of your devices. For example, all my feeds appear in NetNewsWire on my Mac, but only the most important ones show up in NetNewsWire on my iPhone.)
Another sync-related feature is that you can use the NewsGator service to publish one or more of your synced Clippings folders as an RSS feed itself. This lets you produce a feed of your favorite articles, to which others on the Internet can subscribe.
Note that you can also sync NetNewsWire via a MobileMe (formerly .Mac) account. However, I've found NewsGator's own sync system to be far more reliable, and I recommend it strongly over MobileMe for this purpose.
Issues and wishes
The issues I've experienced with NetNewsWire, under heavy testing, have been minor. The most significant is that I occasionally experienced minor syncing and feed-refreshing issues; these appeared to be related to my NewsGator account. However, such issues occurred fewer than a handful of times in eight months using NetNewsWire 3.1. Given the difficulties inherent in syncing the states of thousands of articles across multiple devices, I was actually surprised such glitches didn't happen more often.
Another minor issue is that while each feed, folder, or special list can have its own settings for sorting and column width, I found that particular feeds or folders often revert to the default settings.
Finally, a few minor wishes: First, I wish the Flagged Items entry in the subscriptions list indicated the number of items it contains, as other feeds and article lists do. Second, it would be useful if dates—received, read, flagged, or "clipped"—were possible criteria in Smart Lists. (One of my Macworld colleagues wants to create a Smart List displaying items flagged in the past couple days; this isn't currently possible.) I'd also like to be able to exclude particular feeds from NetNewsWire's Dock-icon count of unread articles. And while each feed can have its own sorting and column settings, other view settings—for example, the option to display a one-line summary of each article below its title—are all-or-nothing; I'd like the option to apply these as feed-level settings.
Macworld's buying advice
If your use of RSS feeds is limited, Safari's built-in RSS-reading feature is likely adequate. But for heavy users of RSS, a dedicated newsreader provides many advantages, not the least of which are convenience and substantial time-savings compared to browsing the same feeds in Safari or visiting each site separately. NetNewsWire 3.1.7 is a stellar example of a newsreader done right, offering a huge number of features and options while remaining simple to set up and use. Its well-thought-out interface lets you take advantage of more-advanced features as you get more comfortable or ignore those features altogether. And thanks to the excellent integration with NewsGator's online services, you've got quick access to all your feeds and Clippings no matter where you are. And did I mention that it's free?
Amusingly, the biggest complaint about NetNewsWire I hear from my tech-journalist colleagues is that the program makes it too easy to follow lots of RSS feeds. You may eventually find yourself subscribed to many (many) more feeds than you expect—and spending far more time browsing those subscriptions than you ever did before. But at least you'll be able to use NetNewsWire's reports to separate the wheat from the chaff and whittle that list down to a manageable size again.