Ambrosia Software has announced Mondo Top 5 Solitaire, a new solitaire collection for the iPhone. It costs $2.99 and is available for download from the App Store.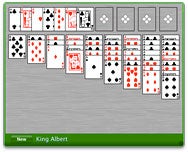 Mondo Top 5 Solitaire takes five of the most popular solitaire card games in Mondo Solitaire and lets you play them using the same game engine that's found in that other iPhone game that costs $9.99. You get FreeCell, Golf, Klondike, Pyramid and Spider.
You can customize the look of Mondo Top 5 Solitaire with custom card backs and background themes. Tools in the game include a magnifying glass to help you see cards up close and a "paper clip" that helps you manage and move stacks.