At a Glance
Expert's Rating
Pros
Portable
Easy-to-use LCD interface
Rich color
Cons
Limited print sizes
Expensive ink and paper
Annoying perforated tabs
OS X 10.5 drivers not in box (must be downloaded from Canon Web site)
Our Verdict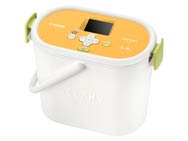 Sporting a clever bucket design that allows for easy packing of cords and extra media, Canon's Selphy CP770 is a streamlined portable photo printer with an optional battery that can print with or without being connected to a computer. You can easily print directly from SD, Memory Stick, or CompactFlash memory cards and cameras, or connect a USB cable and print from your Mac.
The CP770 is a dye sublimation printer, using a printing process that's different than what you get with a typical desktop printer. An ink-jet cartridge's page yield will vary depending on your prints, but a dye-sub printer employs cassettes that contain a specific amount of colored cellophane ribbon to print a set number of prints per roll. For $30, Canon sells a 108-photo roll and paper pack, which means you'll pay about $0.28 per print. To get an idea of how that fares against an ink-jet photo printer, Epson's $149 PictureMate Dash PM 260 uses an ink-jet cartridge system, and its glossy Print Pack, which includes paper and ink, costs $38 for 150 prints, about $0.26 per print. Online photo processing can be much cheaper, if less convenient; Snapfish, for example charges just $0.09 per 4-by-6-inch photo.
Before printing, you must remove the printer from its traveling bucket, which serves as a storage vessel, not a printer stand. You'll need a decent amount of room for the printer to work, as the area behind it must be kept clear in order for the paper to go through its three-pass printing process.
When printing from a memory card, the CP770's large 2.5-inch LCD screen displays the photos on the card, and it's easy to choose which ones to print. From the LCD screen, you also have the ability to correct red-eye, manage colors, alter page layout, optimize quality, add borders, and insert dates into your photos.
The CP770's print sizes are limited to either 4 by 6 or 4 by 8 inches-perfect for photos or postcards. But the dye-sub cartridges have a fixed size; you'll have to buy separate print cassettes for each size. If you're looking for a wide variety of photo size options, this printer's not for you. The CP770 is meant to provide prints on location. If print variety takes priority over portability, consider lab processing or a traditional desktop ink-jet printer.
However, for those who can look beyond the output limitations, the CP770 produces some of the highest quality photos around. We compared the results of the CP770 to several other printers in a series of photo jury tests. We found that the CP770 produced colors that were richer, yet darker-a notable contrast to the output of ink-jet printers, which seemed washed out. Despite the photos being a little on the dark side, we judged them to be of Very Good quality. The printing process takes about 1 minute per picture, and because of the dye sublimation process, you'll get smoother colors with more continuous tone instead of an ink-jet's array of tiny dots giving the illusion of solidity.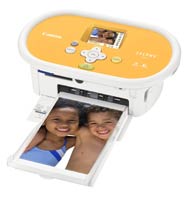 The CP770 produces strong image quality, but the Canon paper hampers the overall impression of the final output. The perforated edges on the 4-by-6-inch paper can be a turn-off-nothing ruins a professional-looking photo like an amateurish border. For users who worry about such details, the perforated edges are a deal breaker. There are reasons for these perforated tabs, however; the printer needs to grab an edge to pull the paper through the printing process, and the extra strips on the edges allow for borderless photos. Also, the photo paper is susceptible to fingerprints, especially before printing. You should touch only the tabs when inserting paper. Once the paper has been printed on, the ink dries instantly and fingerprint marks become less of a problem.
If you have an IrDA or IrSimple infrared mobile phone, Canon says that you can link it up to the CP770 and print directly from your phone. We did not test this feature. Canon also sells an optional Bluetooth adapter for wireless printing.
Macworld's buying advice
The CP770 bills itself as a family printer, and while the LCD interface is easy and accessible, the high cost of prints and the sensitivity of the photo paper make it a product that you don't want to put in the reach of children without guidance. If perforated edges and sparse photo size options bother you, look elsewhere. On the other hand, the dye sublimation process enables the CP770 to create rich colors and professional-looking photos that are in many ways superior to ink-jet printers in its category.
[Chris Holt is a Macworld assistant editor.]