I was there when Steve Jobs unveiled the first iPod. And when the event was over, the assembled members of the press were divided into two camps: one group didn't know quite what to make of Apple entering the esoteric world of digital music players, a field with questionable prospects and no dominant products. The other group of us had already grasped what digital music was all about. In fact, we had already begun converting our CD collections into MP3 files.
In the intervening years, Apple has brought digital audio and video into the mainstream, not just through the massive success of the iPod, but via the iTunes Store, the iPhone, and the Apple TV. These are all cutting-edge technologies, and that means that they can be complicated. While Apple's products are more intuitive than most, many features can't be mastered simply by reading the flimsy getting-started guides that Apple includes with its products.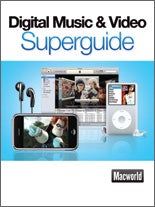 That's why we've created this newest addition to our Superguide series, The Macworld Digital Music & Video Superguide. This update to our previous iPod and iTunes Superguide is a straightforward and up-to-date guide to working with music and video, and comes packed with practical advice for handling digital media on your Mac, iPod, iPhone, and Apple TV. In it, we've compiled the best tips, tricks, and advice from Macworld's experts to help you get the most out of your device, your software, and your collection of digital media. We'll lead you through every aspect of building, managing, and enjoying your digital media library.
This book—available as a $12.95 PDF download (with no digital rights management of any kind—just read it using Adobe Reader or Apple's Preview application!), or a $15 PDF on CD-ROM, or a beautiful $24.99 full-color, bound paperback book—contains detailed instructions on how to import music from CDs, cassettes, and LPs without compromising sound quality. You'll learn how to bring order to your digital collection with iTunes' space-saving features, including smart playlists that sift through your massive library and ferret out the files you want to carry with you. Discover the best ways to create harmony between your Mac, iPod, iPhone, and Apple TV with tips on syncing your content. And convert video on your hard drive or DVDs into iPod- and iPhone-compatible formats. Our experts also dispense vital troubleshooting advice and recommend their favorite accessories to help you streamline your digital media experience.
Want to see more before you shell out for this book? We've created a downloadable sample that includes the book's complete table of contents as well as sample pages.
Also available in our Superguide series are the MacBasics Superguide Leopard Edition, Mac OS X Hints, Total Leopard, and the Macworld Digital Photography Superguide. We think they're really great books, and we hope you do, too.
(If you've ALREADY bought our old "iPod and iTunes Superguide" book in PDF form, we have a special upgrade offer for you. Check your e-mail in the next day or so for information about how to get a discount when buying this book. If you don't see it, drop us a line at ebooks at macworld dot com and we'll look up your old order and send you the code.)
Click here to get more information about how to buy the book.