There's this guy I know—we'll call him Neb Chukboy—who scoffed at budgeting. "I've got it all up here," he'd say, tapping his thick skull with his pudgy middle finger. But then he got married, bought a house, took on a long commute, switched jobs once or twice, and started having big bills to pay. "Where'd my money go?" Neb asked one day, to nobody in particular. Neb realized, like most responsible adults, that trying to keep track of his expenses in his head didn't work as well as it seemed to when he was younger, single and considerably more stupid than he is today.
Keeping tabs on expenses usually involves tossing receipts in a folder and adding them up at the end of the month. But Neb, a born-again budgeter, is also a disorganized procrastinator. What's a Neb to do?
Happily, there is an iPhone app that's close to ideal for Neb and his ilk. It's called Pennies. And although Pennies isn't perfect, it does a good job of helping keep tabs on expenses month-to-month.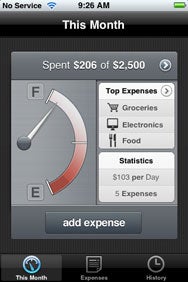 Businesspeople understand well the need to keep close track of their expenses. That's probably why are at least half a dozen expense-tracking apps marketed to the business traveler for sale in the Apple's iTunes App Store. Pennies is not one of those applications. Pennies is a simple expense-tracking program for the layman, the weekender, the vacationer, the guy and gal who can no longer afford to track expenses in their heads. Pennies, in short, is Neb's expense-tracking app.
Pennies has a perfectly straightforward interface. The user sets a monthly budget and enters expenses. Pennies main screen shows a gas gauge. At the beginning of the month, the gauge's needle points to "full." As the month progresses and the expenses add up, the gauge needle dips further and further to "empty." The screen also provides a running total how much the user has spent, as well as a daily average. And as time goes on, Pennies provides a history so users can track and compare expenses month-by-month. The app supports dollars, euros and British pounds sterling.
Adding expenses in Pennies is almost as easy as spending the money to begin with. Users simply tap the "Add expense" button and a calculator-style screen pops up, type in the dollar amount, choose from one of 10 expense categories, and save. The front screen automatically updates the total expenditure amount for the month, along with average expenses per day and total number of purchases. Pennies even shows your top three expenses broken down by category.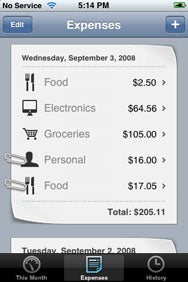 Pennies does have at least one notable flaw for an app with its name. Oddly, the app restricts the starting budget dollar amount to the nearest hundred dollars—i.e., $1,500, $1,600, $2,400, $2,500, and so forth. If your budget for September is $2450.25, your calculations are off from the start. That's irritating and it should be something the developers fix in future releases. Also, the app doesn't allow for editing dates. So if procrastinators like Neb doesn't get around to entering yesterday's expenses until today, the expenses are recorded today and there's nothing that can be done about it.
And although the app is simple, it would be nice to have the option of adding or customizing expense categories. Right now, users can assign expenses to food, amusement, travel, household, auto, hobby, electronics, personal, groceries and, if those aren't general enough, "general." Pennies does have a "notes" function that allows users to make a record of what each expense was for. That said, some useful optional categories might include coffee (those daily trips to Starbucks can really add up), books, music, and gifts. Finally, there is no way to export the data out of the phone, which makes an app designed to make tracking expenses convenient much less so.
It's best to think of Pennies as a handy way to keep track of expenses quickly and simply, sort of like an electronic back-of-the-envelope calculator. Users seeking sophistication will find it elsewhere. But for the Nebs of the world, Pennies is good enough.
Pennies is compatible with any iPhone or iPod touch running the iPhone 2.0 software update.
[Ben Boychuk is a freelance writer and columnist in Rialto, California. He does not actually have a friend named Neb Chukboy.]