Back in October of 2005, I enthusiastically reviewed PCalc 3, which has since been my favorite calculator for the Mac. The developer, TLA Systems, recently released the $10 PCalc for the iPhone and iPod touch, and it's similarly slick. Although Apple updated the iPhone's built-in calculator app considerably with the release of the iPhone 2.0 software—most notably by adding a landscape-mode scientific layout—PCalc is an appealing alternative, offering a compelling combination of advanced functions, useful conversion and constant features, and a great interface.
PCalc's standard (vertical) mode offers all the functions of the iPhone's own standard-calculator mode, plus percentage, parentheses for nested operations, inverse, square root, exponents, and more. Like Apple's calculator, rotating your iPhone gives you a landscape mode with more-advanced scientific and programmers' features. PCalc includes every function of Apple's calculator except for a random-number generator, while adding features such as decimal, hexadecimal, octal, and binary modes, as well as a good number of additional mathematical functions.
But PCalc's advantages go beyond having more buttons. Near and dear to my geek heart is RPN ( Reverse Polish Notation) entry mode. There's also a virtual tape, which displays a time-stamped record of your calculations, and a register (called Stack in RPN mode), which displays both memory contents and decimal-, hex-, octal-, and binary-base versions of the current number. You can even e-mail the contents of the tape or register.

Available in both portrait and landscape modes are two other unique features. Tapping the A->B button (or double-tapping the "LCD") brings up PCalc's conversion mode, which lets you convert the current number—the one displayed in PCalc's LCD—using one of over 80 conversion functions that cover length, power, weight, energy, and more. (Tapping the converted value enters it for further calculation.) Tapping the 42 button lets you choose from among a slew of constants across several categories: astronomical, atomic, electromagnetic, mathematical, physicochemical, and universal. Choosing a constant inputs it for use in the current calculation. And, yes, 42 is the constant for Ultimate Answer.
PCalc also takes advantage of the iPhone's touchscreen and accelerometer. When performing calculations, a swipe of the LCD to the right invokes the Undo feature; a swipe to the left invokes Redo. (Multiple levels of undo and redo are supported.) And if pressing the Clear and Clear All buttons is too pedestrian for your iPhone-loving hands, give the phone a left-right shake; two shakes equates to Clear, three to Clear All.
Finally, unlike other iPhone calculator apps—including Apple's own—PCalc includes a keyboard custom-coded by TLA Systems to mimic the iPhone's standard keyboard in both "feel" and animation: When you press on a key, a larger version of its label pops up, confirming which key you're actually pressing; "releasing" the key activates it.
PCalc's preferences include options for the number of decimal places; normal, scientific, or engineering display; two different screen fonts; a choice of HP or non-HP RPN behavior; and display colors.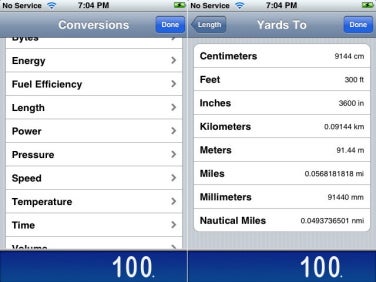 Most of my complaints about PCalc are minor and relate to button placement and size. For example, those used to HP's RPN calculators, as I am, will likely find the Enter button to be a bit small and oddly positioned (it's the same size as a standard button and located one or two rows over from the number pad, depending on the iPhone's orientation). And the standard operand buttons (+ – x /) shift positions, relative to the number pad, when you switch between portrait and landscape mode; I occasionally find myself mistyping after switching orientations. Finally, I'd like to see a bit more contrast between keys and their labels; white on gray can be difficult to read at times. (On the other hand, the white-on-blue appearance of the RPN key when RPN mode is activated is very easy to read.)
It's also worth noting that scientific calculators are very personal things among those who use them heavily. While I find PCalc to be outstanding, if you have specific or unusual needs, be sure to determine if PCalc has those functions before buying.
Of course, at $10, you have to need—or at least want—a considerably improved calculator to justify purchasing PCalc. And there are now a number of other third-party calculator and conversion apps out there, at various price points. But none has as many features, or, in my opinion, a comparable interface or as much polish. And if you plan on purchasing both a scientific calculator and a conversion app, the cost is quite reasonable. For me, buying PCalc was a no-brainer. And I didn't even need a calculator to figure that out.
PCalc 1.0.2 is compatible with any iPhone or iPod touch running the iPhone 2.0 software update.
[Senior editor Dan Frakes reviews low-cost software for the Mac Gems blog.]