Savant Systems on Friday announced a downloadable application for the iPhone and iPod touch that will enable users to control home automation systems that use Savant�s ROSIE technology. It�s coming soon to the App Store for $199, according to Savant.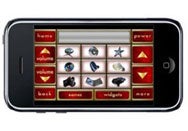 ROSIE systems utilize an on-screen display (OSD) that enable users to control lighting, HVAC, security cameras and supported audio/video equipment. The iPhone application provides two-way communication from feedback-enabled ROSIE systems, and supports gesture control and tilt on the iPod and iPod touch.
Savant home integration dealers can create �themed interfaces� using RacePoint Blueprint software to come up with completely customized interfaces for their clients, as well.